His Multi-View Portable Docking Station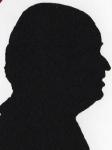 A rather unusual piece of kit that can be used to solve problems that you thought were not resolvable. In effect this plugs into a USB3 port to give you HDMI, VGA and Ethernet connections and increase the range of your PC/Notebook.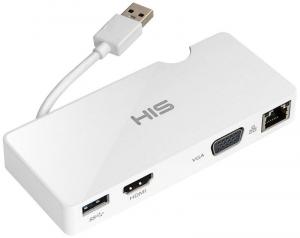 click image to enlarge
It is 12.5x5.5x2cm and weights 78grams with the hard wired 10cm USB plug that flips out.
Often when I get to review notebooks I mention that a docking station is available to add the bits that were not on the main device, this is normally a proprietary product and has a high price as it is manufactured for a single system so made in small numbers. Here a solution to solve most of the problems from a generic box that plugs into a USB3 port.
The four ports on the front of the device are a USB3, an HDMI a VGA and an Ethernet.
There is a small Quick Installation Guide that should be enough to get things running.
Once the driver from the supplied mini CD is installed pressing the Windows Key and 'P' at the same time will give a choice of displays. Computer Only, Duplicate with whatever you have connected via one of the ports, Extend and for those who use one Projector only.
You can also rotate the display so options here are Portrait, Landscape, Rotated Portrait and Rotated Landscape.
There is also a fit to TV function so you can change the size of your Desktop display so that the whole screen appears on your TV.
The Mini CD has a full manual and this mentions that if you connect to both VGA and HDMI at the same time that the VGA is disabled.
Perhaps the feature most would jump at is the increase in screen size beyond the glass ceiling of 1920x1080 this is now up to 2048x1152 via either HDMI or VGA this sort of resolution is currently only available commonly via Display Port adapters.
The Ethernet Port is also useful to give up to 5gbps for file transfer and also useful when working in your office rather than using Wi-Fi.
I tried this unit on both Windows 7 and Windows 8.1 systems. It is stated to work with MAC systems but as I do not one this was not tested by me.
Having the files and the drivers on a mini CD may be problematic for some users with a CD or DVD drive and of course mini CDs do not normally work with units that have vertical drives but the files are available from the HIS site.
This is an unusual piece of kit that almost hits the mark and should you need that slightly larger display then it is certainly worth the money.
Currently I can only find it from Amazon in the USA where it is available at $81.99 with free delivery.
http://www.amazon.com/gp/product/B00LZL8DHU?ie=UTF8&tag=gadge0a5-20&linkCode=as2&camp=1789