Buffalo MiniStation Extreme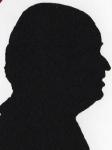 Certainly not the smallest external hard drive but still just about able to fit inside a jacket pocket. It comes with an integral short USB3 cable that is hard wired into the unit, its main selling point will be its rugged design so it will stand the odd knock or three.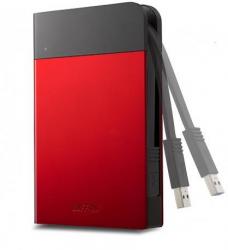 click image to enlarge
It is like a small book even to having rounded corners at the spine side, the dimensions are 14x10x2cm and it weights 276grams which of course includes the 'Integrated Flex Cable' that emerges from the top left and is channelled along the top and right side a total of 14cm to the USB3 plug so that is the maximum distance you have between drive and target.
In the box are a Quick Setup Guide and something that could make the 14cm length of the hard wired lead less important a 40cm USB3 extension lead.
The unit comes in both 1TB and 2TB sizes I was sent the former in a metallic red and black colouring with a black USB3 lead in the side.
'Military Grade Shock Protection' is one claim which I did not test but they claim it will withstand accidental drops and bumps from up to 1.2metres, as they do not state what surface this is dropped onto I except their claim. They also claim water and dust resistance which I also accepted.
The 'Automatic Data Encryption' needs to be turned on using files that will be deleted along with everything else on the drive when implemented, so these files need to be stored elsewhere if you ever want to remove this encryption and return to unencrypted mode. Once in encrypted mode you need to enter a password to read or write data to the unit.
Now onto the thorny question of data transfer speed the 'nirvana' possible speed in 'open' (unencrypted) mode is 'up to 5Gbps' when copying to or from a USB3 port. I doubt anyone will get near that using a standard Windows PC, of course these figures must be achievable or Buffalos competitors would be making a lot of noise about unachievable claims.
In my tests read and write speeds were quite similar surprisingly according to file and folder sizes sometimes write was quicker than read. Of course the speed of the PC and any other tasks running concurrently will affect the speeds achieved.
In some tests the speeds I received were little different when using a USB2 port rather than the native USB3 which probably means the PC itself is the bottleneck.
I tested this over several weeks reading and writing – as well as rewriting – a range of files and all seemed to work correctly.
I also used it for my main weekly backup doing a full backup – all we all should – and not taking the easy quicker option of incremental backups, if you ever need to restore from a main backup and then subsidiary incremental backups you will find there only needs to be one glitch and the whole chain collapses. Of course at intervals in between do other backups of separate things like word processor and spreadsheets and your email and then when the worse happens nothing over a week will be lost, we all hope the worst never happens.
The Buffalo Mini Station Extreme is available from the link below for £64 with free delivery.
http://www.amazon.co.uk/gp/product/B007RS5TCW?ie=UTF8&tag=gadge0a-21&linkCode=as2&camp=1634