The Senseo Quadrante Coffee Machine by Philips/Douwe Egberts

A neat cube shaped coffee machine, with Douwe Egberts coffe pods, certainly packs a punch.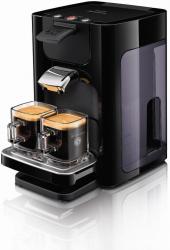 click image to enlarge
Since the Senseo Quadrante coffee machine from Phillips/Douwe Egberts arrived for review around two weeks ago I would say that I have become a little hooked. I've only drunk one cup of my usual Instant in that time. This little beastie makes tasty, strong coffee with the greatest of ease.
Fill the large eight-cup water tank in seconds and then simply pop a Douwe Egberts coffee pod into the tray. Less than a minute later your cup of coffee will be ready to drink at a good temperature; not scalding but well above merely warm.
The Senseo system was developed jointly by Douwe Egberts and Philips to provide the quickest way to get a cup of quality coffee. There is a wide variety of pods available for the Senseo range of machines; real coffees from gentle and mild to the sort of stuff that could wake up a cataleptic elephant. There are also tea pods and various types of hot chocolate etc available. I won't list the entire range here because they are all listed by category on the dedicated Senseo web-site. If you're bewildered by the range then a natty little wizard on the web-site makes suggestions based on time of day, the kind of taste you like or even the mood in which you find yourself.
The Senseo Quadrante's cube shape is in contrast to the many curvy machines out there and will suit the minimalist interior. The Senseo is available in Dark Stroke Black, designed to complement wooden and granite style worktops, and in white. It has two nozzles and an adjustable drip tray so that all sizes of cup or mug will fit the machine making it easy to fill either one or two cups at once. I personally found that a 'single cup' pod was more than strong enough to produce two small cups or one big mug of coffee so this makes the Senseo even more economical in use!
So why not treat yourself or the coffee addict in your life to one this Christmas?
At an RRP of £100, the Senseo Quadrante is a mid-price coffee usually retailing around the £100 mark. At the moment Amazon have a special offer, selling the Senseo in Black for only £66.66 including free delivery. Amazon also stock many of the pods to keep your Senseo pumping out delicious coffee when needed!