Humax 320GB PVR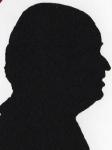 Review controls
This unit arrived shortly after the Humax YouView unit, at the same time as a brilliant Humax Sound Bar (review to follow). Things did not start out well but after a couple of conversations things improved and I now trust it.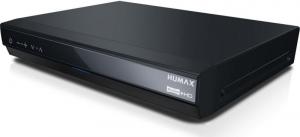 click image to enlarge
Trust might seem a strange word but if you want to watch a program that is broadcast when you are out then you have to trust the machine to record it. Initially I could not but a firmware update brought things into sync until Freeview did a channel reorganization and then I found that my schedule was lost, not disastrous as I found out the next day, but if you had been away for a holiday it could have been.
The version of the Firmware that I found worked correctly was 1.04 so look for this or later on the start screen.
It is 31x23x4cm but add 3cm to the second figure the depth for insertion of leads in the back.
As with most modern units there is no clock on display – or course there is an internal clock for knowing when to start and stop recording – all this unit has as a thin 3cm long red bar in the centre when in standby or when recording, this bar becomes blue when on. I did ask why it could not be a third colour so you could differentiate between standby and recording but did not receive a satisfactory answer.
With your initial switch on a scan will take place and in my case it found 162channels, 131 TV and Data and 31 radio, it took around 150seconds. Be aware however that this unit has a quirk/feature in that any subsequent retune will remove any programs from your schedule but it will not lose any recorded programs
Everything works from the 47 key remote control so do not let the dog eat it.
There is a 68 page User Manual that describes all the features but most PVRs work in much the same way, the only one I have looked at that works very differently was the recently reviewed You View one.
Programs for recording at a later time are selected from the 'Guide' this one was particularly rapid and did not leave some of the mainstream channels blank even after a couple of minutes as some do. Here this was important as it did not have a 'plus 24hour' button so you had to scroll through each day, it does of course have a series record feature.
As with most recent units you can pause live TV to answer the door, phone, call of nature etc.
You can record one channel and watch another or record two channels and watch something pre recorded. I also found that it was possible to sometimes record two programs and watch a third but this is only possible if two of them are on the same multiplex.
It is also possible to use the remote control to also control most recent TV's, this means one less remote to clutter up your sofa but of course all the more disastrous should it be misplaced.
There is a Portal that allows you to use iPlayer and You Tube but this requires an Ethernet cable as this unit does not have Wi-Fi.
This was not a trouble free review but now all seems to be working correctly, just remember the recording schedule will vanish with the next – all too frequent – channel changeround from Freeview.
The Humax HDR-1800T is available from the link below for £149.99 with free delivery.
http://www.amazon.co.uk/gp/product/B00LHZK386?ie=UTF8&tag=gadge0a-21&linkCode=as2&camp=1634