Humax Freeview Play FVP-4000T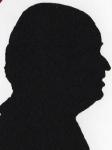 Review controls
The latest PVR from Humax now comes with catch up TV for the times you forgot to set your PVR. It also has the ability to allow up to three channels to be recorded simultaneously. Read on for more details of this coffee themed recorder.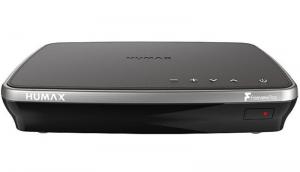 click image to enlarge
Most recent Freeview boxes have two tuners which mean you can record at least two channels at the same time. This unit has three tuners so you can record at least three channels simultaneously. However if the channels are on the same multiplex this number could even reach six simultaneous recordings.
It is 28x19x5cm, the middle figure the depth can increase by a couple of centimetres dependant on the cables inserted.
Previously you needed another service to watch catch up TV, some provided with boxes like Now TV but most available over the Internet like BBC iPlayer and ITV Player etc. While these are still built into this unit for the previous seven days the content is available from the Guide just like selecting something to watch in the future. These programs are immediately available but instead of coming down the aerial they come over the Internet. If you want program older than seven days they are possibly still available via iPlayer which can be accessed from within the PVR.
All program guides operate in different ways and initially – because this was radically different – I hated it but it works so providing you follow the Instruction Booklet for the first few occasions all should be well. The remote control is another thing that works differently but again it works so that is what matters.
This unit has one big plus it can stream live TV to an iOS or Android device via an App. This is easy to find on the iOS Store but only locatable if you enter 'Live TV' and scroll down a long list on Android. The screen resolution is of course wrong but as TVs are 16:9 and portable devices be they phones or Tablets tend to 4:3 it's still watchable. I am currently looking at an ASUS tablet that has 16:9 resolution and it is excellent.
A few words on multiplex's when you do the initial tune groups of channels appear together from a single point this is a multiplex so if you want to record from say BBC1 and BBC2 at the same time these are on the same multiplex. If you ever get beyond the maximum that can be recorded simultaneously you will be told by the PVR and it might even offer a solution like offering the chance to record something on one of the +1 channels if appropriate.
One feature I dislike is the lack of information on the unit, there is a single LED it glows red when in standby, blue when on and red when recording, so there is no way of knowing that a recording is taking place unless you always leave the unit on, surely a third LED colour could be used.
This is a 500GB unit and I am told a 1TB version will be available shortly. 500GB is around 100 hours of HD TV and possibly up to 300 hours of SD.
From taking it out of the box to watching TV took twenty minutes. The tuner found 137 TV channels and 29 Radio channels; some of the TV channels are encrypted. The Humax website says you need a 3mbps download speed to watch catch up TV, I connected via Wi-Fi but you can also use Ethernet, there is also a USB port to allow you to import videos and photos etc. for viewing on the TV.
If you are new to PVR's then this is fine if you are coming from another then there will be a learning curve.
The Humax FVP-4000T is available from the first link below for £199.95 with free delivery in either Mocha or Cappuccino colours.
http://www.amazon.co.uk/gp/product/B0104SZ7QE?ie=UTF8&tag=gadge0a-21&linkCode=as2&camp=1634
http://www.humaxdigital.co.uk/uk/products/product.php?gid=613