IRISPen Air 7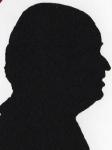 At the start of December I told you about a portable page scanner from IRIS and mentioned there were other such devices that could read information from a book or magazine without the need for it to be torn out. Here is such a device.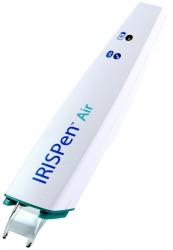 click image to enlarge
The IRISPen Air 7 is truly portable and it is used like a pen with you scanning a line at a time, it is a bit like highlighting a line or so of text from a page to help to remember a fact or statement. With the highlighter method you still need to refer back to the book to get that fact when you revise, not so here as you scan into your PC or portable device and the book remains in pristine condition.
It is 13.5cm long 2.5cm wide and 1.5cm deep at the scan end far less as it moves to the back it weights xx grams.
For people using it with MAC or PC you download the software from the IRIS website. For those on Android or iOS there are Apps from the relevant store. You will also need to download the User Guide and a link is given in the 14 language A5 sheet that is the Quick User Guide and you may need a magnifying glass to read it.
There is a 1.5metre micro USB to USB lead provided to charge the scanner it fits into the end of the unit once you have removed a rubber bung that is likely to get lost very quickly as its small and cream and is totally removed rather than hinge and stay in place.
First charge can take up to five hours with a green LED blinking to say it is charging, when it stays on the battery is fully charged. You should get around fours of use between charges. A recharge is required when the LED starts blinking quickly and from then on the charge should take around 150 minutes.
The pen is Bluetooth and a small wireless dongle is supplied to fit into a USB port but for those older PCs without Bluetooth use can connect it via USB using the charge cable.
I connected it via a PC and Android device. On first PC use a tour automatically starts to run you through correct use and get you started.
While this pen does scan as the main feature it can also Translate and Read Back so this is far more than a basic scanning device.
Downloading the software for PC could be easier as you need to fill in an onscreen form and then wait for an email to be sent with a link. I assume this is their way of knowing who has which product. The software download was 320MB on a PC and took around six minutes to download. If you use the Translator function that is a separate download.
In use it is easy to capture just teach yourself to move the pen at a consistent speed across the page and you should get good results. Just remember you are scanning a line at a time so if you need pages of information this is probably not the product for you.
The IRISPen Air 7 is available from the link below for £107.86 with free delivery.
http://www.amazon.co.uk/gp/product/B0107ES1P4?ie=UTF8&tag=gadge0a-21&linkCode=as2&camp=1634