IRIScan Express 4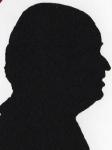 For a very long time people have talked about a paperless office, and yes we all still seem to be drowning in paper. Utility companies and banks want you to go paperless but there is not normally a great incentive to do so.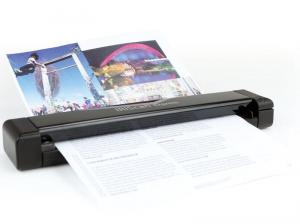 click image to enlarge
Here a small scanner that may assist as it lets you scan and then convert files into a format readable by Word and Excel to name but two.
It comes in a small box and the scanner itself is 28.5x5x3cm there are minimal instructions consisting of a single sheet with just four points.
Software Download.
Connect to PC or Notebook.
Insert Document Face Up to Scan it.
URL for Support.
So no CD is supplied and if you are on dial up or a very slow connection this is not for you as when downloaded and installed the hard disk space taken is over 3GB.
You are installing Read IRIS Pro 14, IRIScan Express 4, Button Manager and Card IRIS 5.
Yes once installed it is very easy to use just move the guide bar left or right to get the size to match whatever you are scanning and offer the page to the unit and it moves through the scanner, the PC then processes the page in the manner you request and that is basically it.
As this is a page scanner the only way you can scan from a book or magazine is to rip out the page so not for those items.
The back left have a connection for the supplied micro USB to USB lead and that is also the power for the unit. The front top right has the on/off button.
Scanning is accurate with the normal proviso of give it a good clear page to work with and the outcome will be an accurately scanned result, even if the page you give it is not crisp and or has multiple folds it normally does an acceptable job.
Microsoft Word for example has a number of different formats and this seems to know them all and can output in their formats so the document still looks like the one you scanned.
Card IRIS 5 is a powerful program to read and log the information from business cards. If you still type in the information from a business card the only time you know its wrong information is when you try to contact the person only to find the email or phone number or perhaps both are wrong.
IRIS does make a scanner for people wanting to scan pages from books or magazines but that is a different product.
This is an easy to use product once you have spent a while downloading the software but as most software installations want/ask/insist on looking for updated software either before or after the install I suppose the time taken is not that excessive and you do end up with the latest version.
IRIScan Express 4 is available from the link below for £81.02.
http://www.amazon.co.uk/gp/product/B0107ES76W?ie=UTF8&tag=gadge0a-21&linkCode=as2&camp=1634