A Multifunction Laser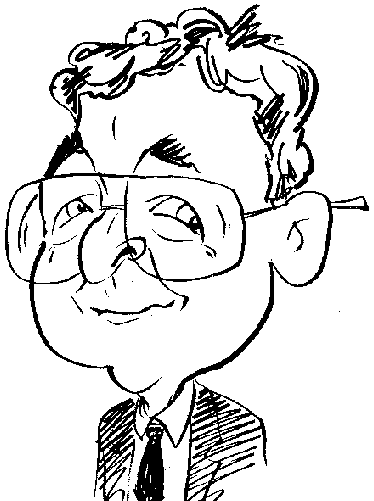 Review controls
While colour can add visual impact, it does add to the cost and is not always necessary for certain documents. In such cases a monochrome laser might be the better option.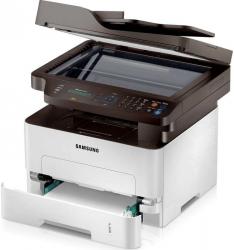 click image to enlarge
The Samsung Multifunction Xpress is a monochrome laser unit. As the multifunction part of its title might indicate, this product is capable of delivering print, copy, scan and fax functionality with ADF (Automatic Document Feeder) thrown in for good measure. Connectivity gives you a choice of USB or wireless depending upon your needs.
You could hardly describe this unit as being compact as its dimensions of 401 x 362 x 367mm (W x D x H) will testify. One reason for the issue of bulk is that Samsung has chosen to mount a black scanner and ADF module on a raised platform which is perched on top of the grey laser printer. This arrangement makes me think that Samsung had simply stuck scanner and ADF functionality on top of an existing scanner in order to produce a multifunction device but then I could be wrong. The overall effect is to create a device that I could never call attractive, merely functional at best. This is one of those devices that would fit best in an office environment rather than a home situation.
Setting up this kit was straightforward and easy as most of the work had been done for me. The toner cartridge was already in place and other set up options had been taken care of prior to the unit arriving at my work space. Having attached the power lead and turned the unit on, I opted for a wireless connection using the device's built-in WPS feature. This option made the necessary link with my wireless network router and produced a print out with the necessary details. You can also carry out the connection set up using the supplied software CD which will give the user the choice of a USB, network or wireless network for those who prefer to work in that manner.
As mentioned earlier, the base module of this product is a monochrome laser printer. This element is substantial enough at 367 x 330 x 201mm (W x D x H). A pull-out paper drawer (it is too big to call a tray) can hold up to 250 sheets of A4 paper. There is a secondary paper input option positioned just above the main drawer. This second method is for manually feeding single sheets into the printer. When not needed this slot is concealed behind a drop-down flap. Paper output, in all cases, is from an opening created by the raised platform for the scanner / ADF combination.
Definitely looking like a late add-on, the scanner and ADF module features the unit's control panel residing on a fixed lip. The control panel has a small LCD window providing feedback regarding status and menu options. As this window can only display two lines of text, navigating the menu options can be a process that could be rather long-winded as you drill down through the various levels and options.
To the left of the window are buttons for ID Copy, Darkness, WPS and Eco mode. A menu navigation wheel, alphanumeric fax telephone pad with dial and address book options plus buttons for Stop/Clear, Power/Wake up, Power Saver and Start are positioned on the right side. Using these various controls you can adjust the darkness, resolution and size of faxes. Sent to either a single of multiple destinations, faxes can be dispatched after a user-defined delay. You can control the number of redials attempts and have reports printed as to when faxes were dispatched. Important Faxes can be forwarded to other destinations while junk Faxes can be blocked. The Fax feature has access to 8MB of memory which should be enough to hold up to 600 pages.
Positioned just above the control panel is the unit's A4 flatbed scanner with a hinged lid that can be raised to accommodate books and magazines when making scans. Built into the scanner's lid is the ADF module for feeding documents through the scanner to the printer as it acts in photocopy mode.
Included with this multifunction device is a software CD. This CD contains print and scan drivers, Easy Printer Manager, Easy Document Creator, Network PC Fax, OCR software and an Easy Wireless Setup option. You can cherry pick which of the modules you want.
When printing from a computer, the Samsung print driver offers various options. You can print documents in portrait or landscape orientation, plus opt for in standard or eco mode with the latter showing a preview screen that allows you to adjust features such as saving on paper and/or toner by removing elements and using a grey font or outline text.
Rather than my usual 101-word document for print tests, I opted for a 202-word document taking up a full A4 page. Print speeds worked out at 28.5 pages per minute. Copying a 10-page document using the ADF feature took just 32 seconds. However while I was able to send documents through the ADF to the scanner for printing, I was unable to send a document direct from the scanner to the printer to create a photocopy. In order to achieve this I had to send the scanned image to a computer before transferring it to the printer to produce a hard copy. All my print tests produced good quality documents produced at acceptable speeds.
The Samsung M2875 multifunction Xpress device is powered by a 600MHz processor with 128MB of system memory. With a monthly duty output rated at 12000 pages, this multifunction device should cope with most small office needs. A quick online check has revealed this unit is available for £209.99 with a replacement toner cartridge (3000 pages) costing £56.89.
http://www.samsung.com/uk/news/presskit/samsung-xpress-m2875-series-awarded-summer-2013-bli-pick-award