MoGo and Energizer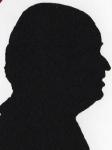 Review controls
First certainly the smallest thing I have ever reviewed, something for those of us with older notebooks without Bluetooth. Second higher power rechargeable batteries and multi charger from Energizer.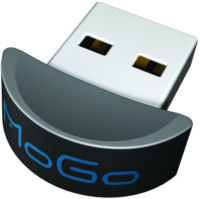 MoGo Laptop Compact Bluetooth USB Adapter
I would certainly not advise sneezing near this tiny device or it could easily get lost. My electronic kitchen scales failed to register when I put it on them and they happily weigh as little as a single gram. It is 2cm long but only 1cm of this will protrude once inserted into a USB port. It is a maximum of 1.5cm wide and slightly concave so you can grip it should you ever want to remove it. Finally it is a maximum of .7cm thick.
In theory I could see no reason why it should not work in a PC as well as a notebook. It did and does, of course almost all modern notebooks have Bluetooth built in. However should you have an older notebook without Bluetooth then this would give you a way to transfer images from your PDA or Phone, I added Skype to that list.
The examples given on the packaging are Stereo Headset, Mouse, Cell Phone and Printer. In theory no drivers should be required. However on the PC's I tried it needed a range of files all available on the mini PC supplied in the packaging.
The install took several minutes but remember these are older PC's and both in fact only had USB 1.1 and early versions of Windows XP. You have two choices to allow it to start when Windows does or have a desktop icon and start it manually. In either case you need to pair with the device. It gives the PC a name (changeable) and then the device you pair with also needs a passcode you must enter the same code to both devices. After this you can use Bluetooth to transfer just as you would with any device that has it built in.
This is a brilliant device that brings older PC's into the 21st Century this will remain in my PC. The price from the MoGo store second link is $29.99. In the UK it's available for £11.95 from the first link :
http://www.amazon.co.uk/MoGo-MG103-0102-Dapter/dp/B0014BOVI6
http://mogostore.com/proddetail.asp?prod=MG103%2D0102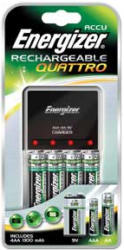 Engergizer Rechargeable Quattro.
The charging unit is 12x6x4cm when plugged into a 13amp socket. You need at least 8cm clear below the plug.
The unit came with a set of four 'AA' 2500mAh batteries. I was also supplied with a 9volt 175mAh battery that now powers my smoke detector and when it runs out will only need a few hours to charge again rather than the normal adding it to the shopping list so should I burn the toast it will of course tell me before the house fills with smoke. Also supplied was a set of 1000 mAh 'AAA' batteries.
So the Quattro charger is a one stop shop for all three battery sizes.
I know several people who thought all rechargeable batteries took the same recharge time and I admit to being one who tend to charge everything for longer than required.
Below is the chart of times supplied with the Quattro Charger.
| Battery type | Capacity | Charge time |
| --- | --- | --- |
| AA | 1300mAh | 4.3 hours |
| AA | 2000mAh | 6.7 hours |
| AA | 2500mAh | 8.3 hours |
| AAA | 850mAh | 6.8 hours |
| AAA | 1000mAh | 8.0 hours |
| 9V | 175mAh | 7.0 hours |
Doing my searches found the Energizer Quattro Charger at a best price of £14.99 from the first link below.
http://www.argos.co.uk/static/Product/partNumber/9800809/Trail/searchtext%3EENERGIZER.htm
http://www.energizer.com/products/hightech-batteries/rechargeables/Pages/rechargeable-battery-charger.aspx