Huawei TalkBand B1

Published Mar 13, 2015 Author
petew
Review controls
The Talkband is a hybrid device incorporating a bluetooth headset and a basic activity monitor. So how good is at these two distinct functions?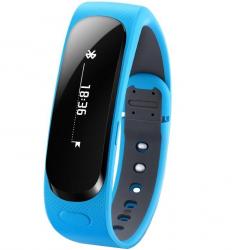 click image to enlarge
This is my first real experience with wearable tech and so I was quite curious to see what benefits this new category could provide.
First of all let me descirbe the device to you. From the image you can see a reasonably marrow strap, one side of which is quite chunky. The chunky side shows a glossy black display which when switched on shows a blue-tinted OLED display. The display is off by default but will turn on at the press of the one hardware button to the side, or if it thinks it has something to tell you.
This display is not permanently fixed to the strap but instead can be released to form a standalone Bluetooth ear-piece. One end of the strap has a not very obvious cover which when removed reveals a skeletal set of USB contacts. This you insert into a USB charger or a computuer to poser the device. A full charge lasted me a number of days.
The whole unit is claimed to be waterproof which can be useful if you intend to exercise to the extreme, although this isn't something I tried beyond getting it (and me) pretty wet in a rain shower on one outing.
The strap comes in two number sizes, small and large. I was provided with a 'large' example for review which even on the smallest setting was slightly too big. I would suggest to try the strap before buying and choose the most appropriate for your wrist. On the smallest setting of the large strap there is so much spare strap that it generally refuses to sit underneat the rest of the strap. You can't cut the strap down becuase the recharging connector is part of the strap (you don't want to discover this after cutting the strap of course so you are warned!).
The TalkBand connects with a mobile device via Bluetooth to either an Android or iOS device. In my case I'm pairing it with my Samsung Galaxy S5 and unfortunately there isn't an option to work with Samsung's own S-Health application which would have been useful. Instead users install the "Huawei Wear" application. This periodically connects with the wrist band and synchronises available data.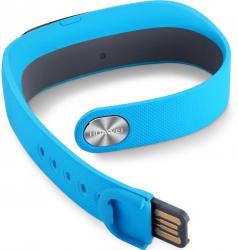 click image to enlarge
The tracker part of the device operates effectively as a basic pedometer, keeping track of the number of step you've taken. It also attempts to track your sleep hours. While the steps seemed fairly accurate it didn't seem to track my sleep particularly well. Despite being a pretty good sleeper there was one night where it claimed that I only managed 30 minutes sleep. A touch of the one button on the strap first shows the current time. Subsequent presses will display number of steps, alarms and then how many hours sleep you've had.
As well as providing a step count the Talkband will periodically remind you that you need to stand up and, of course implicitly, go and make a cup of tea. I found this fairly useful as I do have a tendancy to sit at a desk for a lart portion of the day, often fogetting to go stretch my legs. To get your attention the device vibrates.
The application takes the data from the wristband and provides you with progress to goals (number of steps) along with some historical charts showing your recent performance. The dispkay is pretty clear and intuitive to use.
Because it also doubles up as a handy Bluetooth headset it will use it's vibrating abilities to get your attention when you get an incoming call. I found this particularly useful because my phone is often on silent and often in my pocket. I have been know to miss the odd call! As well as gently grabbing your attention to the incoming call the number or name of the person calling is shown on the display. A quick press of the button on the strap releases the headset and you can pop it in your ear. For those of us that really don't like being permanently attached to a headset on beneficial side effect of the headset strapped to your wrist is that you avoid the frantic scurrying around under desk clutter that can often accompany a call. The vibrarions also remind you that you have the headset so you don't start the conversation by talking into your phone.
I found sound quality on the headset to be pretty good on the few calls I made and received during the review period. One critisism is that you can't have it attached to your phone just to sycnhronise data - it has to be a headset as well. I'm not a great lover of Bluetooth when at my desk and prefer to reserve them for when I'm out and about. You only real option here is to disconnect and then only connect now and then to synchronise the date.
On the whole the Huawei TalkBand B1 functioned well and is a good option for those wishing to keep a basic record of their exercise or wish to try to increase their activity by walking more, or just using the stairs. It's not aimed at serious sports or activity people that want a more comprehensive record of their achievements and progress. Integration with other applications, such as Samsung's S-Health which will provide GPS mapping would have been useful.
My review unit was black which on Amazon is currently priced at £95 however it's also available in blue and grey. The blue variant is priced at a competitive £60 right now.