Krups Espresso Fully Automatic EA850B40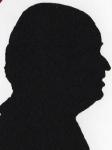 Review controls
Here it is the long awaited coffee machine and what a machine it is. While I have reviewed numerous machines before this is the first that uses fresh roasted beans, not ground coffee, unground beans freshly ground in the machine for each cup.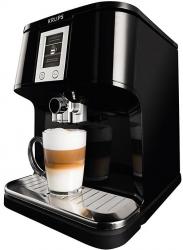 click image to enlarge
A new experience for me and by some way the largest machine I have used, still it's a lot smaller than that found in a decent coffee shop. It is 26.5x39x35cm and you will need access to the left side to remove the compacted used coffee grounds every so often, maybe every two days or so dependent on use.
The water container holds around two litres of water and this need to kept watch on because if it runs out mid coffee that will be either a very strong one or just wasted as it starts a new cycle when the water tank is refilled.
At this point let me say that unlike any other machine I have used I was not given any coffee to start the process and I needed to ask a few coffee experts where they get theirs, one answer that appealed was a firm called Pact Coffee (link at the end of paragraph) who for £1 will send you 250grams of roasted beans to try, you select the type, they roast them (they will even grind them if your machine does not have a grinder) and from Monday to Friday they promise next day delivery. As always when I do these things I never say who I am I just paid my £1 and next day I received a neat well packed package of freshly roasted coffee beans. The code you need to get this special price for your first order is 'LETSGO'. www.pactcoffee.com
Setting the machine up is simple, pour beans into the hopper on top of the machine, attach the drip tray and fill the water container at the rear, plug in the device and press the on/off button on the face. Then follow the prompts on the 5.5x4cm touch panel above the on/off button.
You will need a container/cup for the initial flush through. If you are a fan of Cappuccino or Latte you need to attach the supplied plastic tube to the side of the 'block'.
You are now ready to make your first cup of coffee maybe ten minutes after unpacking. The touch screen offers choices of Ristretto (very strong), Espresso (strong), Coffee these are all black but if you wish you can add milk to the last one. Cappuccino or Latte require a jug or tilted cup with some cold milk in.
Having made your choice the machine goes through a heating cycle – and for those who think most machines do not give hot coffee this certainly does – and then for Ristretto, Expresso or Coffee it grinds the correct amount of beans and then tamps them into a block, it then makes the coffee that streams into the cup you placed under the block which can move up and down to suit differ cup/mug sizes. It then tells you your coffee is made and that's it.
For Cappuccino or Latte there is one more step after it heats the water with the tube in the container with the milk it makes steam which sucks the milk into the cup under the block and at the same time heats it then it adds the coffee as for the black options mentioned.
The touch screen allows you to decide the number of ml of fluid, both milk – if applicable – and water make your perfect drink, while it has defaults you can change these to suit your tastes and if one person likes say a very weak coffee increase the amount of water and save it as a favourite under that person's name.
A Cappuccino from turning the machine on takes around two minutes a coffee around 90 seconds.
This is an easy to use machine that makes decent hot coffee however you must find the blend that you like, this is trial and error and possibly involves chatting up someone at your local favourite coffee shop to find where their coffee comes from. Next you need a company to mix the beans to your receipt after that buy just the amount you need for a short period, just like spices coffee once cooked starts to lose flavour and once ground it needs drinking.
The Krups Espresso Fully Automatic EA850B40 is available from the first link below for £649.95 with free delivery or pick up in store, but if you choose the latter it's not a light machine.
http://www.johnlewis.com/krups-ea850b40-espresseria-bean-to-cup-coffee-machine-black/p1527261