Smooth Operator - Kenwood Smoothie Concert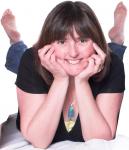 Review controls
A smoothie maker that makes it easy to get your 5 a day - no mess, no fuss, just simple smoothing!
Buy Now
Kenwood Concert Smoothie Maker SB256
only £22.51 from Amazon

Innocent Smoothie Recipe Book
£8.44 from Amazon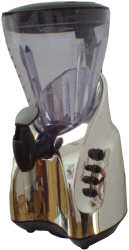 Smoothies are a fantastic way of staying healthy. They are quick and easy to make and a much faster way to get your 5 a day in. If you mix fruit, juice and yoghurt together, you have a nutritionally sound breakfast packed with vitamins to bump start your day. Even better, the kids love them and you can get really creative with the ingredients.
I tried out this Kenwood Smoothie Concert and was impressed with the results. The options a limitless, but we just took what we had hanging around the house: orange juice, kiwi, strawberries and some frozen smoothie mix from Tesco. The handly booklet suggests that smoothies should really be served chilled, so using frozen fruit or ice cubes as part of the mix achieves this very nicely. For a creamier texture you can use ice cream or yoghurt (yummy way to get calcium into the kids and yourself as well).
The Kenwood Smoothie Concert is a simple but effective machine. It is a jug style smoothie maker attached to a mixing base unit. There are 3 functions: mix, smooth and pulse. Pop the juice, then the fruit, then the frozen ingredients into the jug, place on the lid, use 'mix' for 30 seconds (a slow mix to get the ingredients moving) then switch to the much faster 'smooth' setting. Both 'mix' and 'smooth' are continuous settings. Pulse gives a very fast and furious boost, but only whilst you are holding the button down. I think this is probably useful if the mixture gets stuck! There is also a stirring stick which you can use to move the ingredients around once you have finished smoothing. We didn't find we needed it though. The smoothie is dispensed through a tap into your glass.
The smoothing process is really very quick and easy. The smoothie was indeed very smooth. And what impressed me most, was the Smoothie Maker's ability to take frozen ingredients and make them liquid in a ridiculously small period of time.
My previous attempts at making smoothies involved improvising with a kitchen mixer. Now I've used the real thing, I can see that the result is a lot smoother and a lot less messy.
The Kenwood Smoothie Concert serves four decent size glasses.
It's always a good sign when I'm looking forward to using something again - roll on tomorrow's breakfast time!
Amazon are currently selling this Smoothie maker for £22.51, including shipping and at that price it has to be good value!
http://www.amazon.co.uk/Kenwood-Concert-Smoothie-Maker-SB256/dp/B0002Q9INC
That lovely company Innocent, being as good as they are, have also shared their expert knowledge on smoothie making in this recipe book of 57 Smoothies - which has received some rave reviews.
http://www.amazon.co.uk/Innocent-Smoothie-Recipe-Book-recipes/dp/000721376X