Canon EOS M10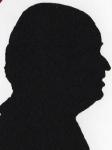 This is one of a new variety of cameras that have interchangeable lenses but are still almost small enough to fit into a pocket, yes they are therefore a DSLR but probably not considered so by the purist. Meet the Canon EOS M10 which is a mirrorless camera.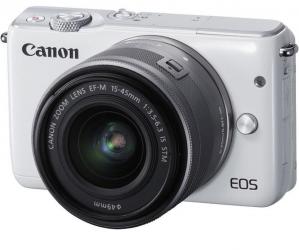 click image to enlarge
Canon describe the EOS M10 as a 'a compact system camera that combines DSLR performance with effortless portability.'
It is 10.5x6.5x8.5 when the 15-45mm lens in locked shut, it weights 438grams.
It comes with a neck strap but I preferred using it in the hand.
In deference to those whose life would end without the ability to take a Selfie the TFT swings through 180 degrees to allow this process to take place.
The right side has anchor point for the neck strap as well as a wireless transfer button below it. The left side has the pair of anchor points below this the flash raise point and two doors behind the first are HDMI and USB connectors, behind the second any SD Card you insert. The base has the battery bay and a tripod screw. The front has the lens and to its left the lens removal button and light sensor.
The rear has the 6.5x4.5cm TFT and to the right of it your rubberised thumb anchor point below this Menu and Review buttons with the ubiquitous five position joystick between the two buttons.
So this leaves the top on the left is where the rather fragile looking pop up flash emerges which requires a two stage movement to replace. Next is pin hole microphone and then a three position outer wheel Auto, Manual and Movie, inside this the on/off button. Next is the shutter release and finally video capture button.
So in comparison to a larger DSLR offering few there are external controls and this means that a lot more control lurks behind the Menu button.
The sheer lack of size means that you do not have a viewfinder and you need to rely on the TFT to compose the shot.
So what can you capture, movies first 1920x1080 captures at 25fps, next 1280x720 @50fps and finally 640x480 @25fps.
Canon have a method of describing image size as L, M, S and each here have two compression rates, the best is 16MP 4608x3456 in 4:3 mode you can also capture is 16:9, 3:2 and 1:1 all those figures are JPG but this unit can also capture RAW images and should you wish you can capture the same image in RAW and JPG.
Using the 14-bit RAW allows plenty of chance to adjust your images post shoot and while for normal shots good quality JPG is fine then with the cost of storage media being so low why not try to use RAW + JPG and then that special shot has that extra something when you have that RAW image stored away.
Once beyond 'Auto' mode – which is where my short review periods always start – there is so much more in this unit and the Creative Filters are something to experiment with. Handheld Night Scene means low light use is in and even without a tripod some super shots can be achieved.
The Canon EOS M10 is available as reviewed with the 15-45mm lens from the link below for £279 with free delivery. The unit sent to me was white but black is available at the same price.
http://www.canon.co.uk/for_home/product_finder/cameras/digital_slr/eos_m10/