Krusade - At Last a Truly Original and Iconic Game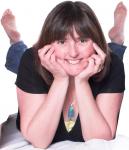 I am so impressed with the Kaleidoscope games. It's fantastic to see a company that has come up with a truly original, high quality and addictive game. The Kaleidoscope games deserve to reach the iconic status of Monopoly and Scrabble, when the other board games inspired by TV programmes and novelty characters are 6 feet under.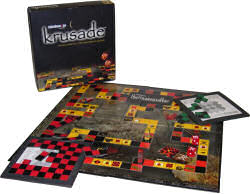 Just when I thought that Kaleidoscope Classic was the perfect game, along came it's big brother - Krusade - a board game for 2-4 players. I liked Kaleidoscope Classic, the original game, so much that it was awarded the Gadgetspeak 5*5 award a few weeks ago.
In brief, Kaleidoscope Classic is a brainteasing puzzle of 18 pieces which cover 64 squares and can placed in at least 101 ways to give different patterns. In one player mode you are pitting your wits against yourself. The challenges are not dissimilar to solving a rubics cube, although perhaps a little more achievable. The 101 patterns are graded easy, medium and difficult.
Krusade takes the idea one step forward into a board game that can be played by 2-4 players. Now I would recommend practising the patterns first before venturing into the board game, and you can do this with one of the four foam based Kaleidoscope boards in Krusade.
With Krusade you travel around the board on throws of the dice to collect the each of the 18 pieces. This is made more interesting by the squares which have other actions which can catapult you further, like making a 3*3 square with the pieces you have in order to get 3 more pieces. Other squares allow you to thwart your opposition by taking their pieces, or swapping your pieces for theirs. There's quite a strategy to be had just to get around the board. It's easy to pick up your first few pieces, but more difficult to maneuvre around to the last few.
Once you have all 18 pieces, you take a challenge card from the middle of the board which has one of the Kaleidoscope patterns on it. The challenge cards are marked easy, medium or difficult and you can choose to play the game at one level, or shuffle all the cards to get a surprise. Your task is to complete your chequerboard pattern before the other player(s). In the meantime, if another player is still collecting pieces on the board, they may land on a 'take another player's piece' whilst you are still trying to solve your puzzle and that will return you back to the board to win your piece back.
This game is not for the fainthearted or easily distracted. It will take as much time as Monopoly. But for those of you that like a good challenge and can stick-in there when the going gets tough, it's great. Roll on more fantastic games like this one!
Krusade is available from Amazon at the very reasonable price of £19.99
http://www.amazon.co.uk/gp/product/B000WF1TG2