Roberts Revival iStream Internet Radio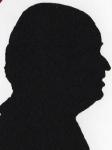 This looks a lot like a radio I had in my youth, leather covered with a leather handle, the differences are of course immense with the top manual tuning dial replaced by a rather nice screen display, so I assume we call it retro.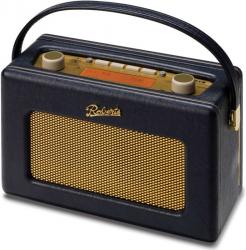 click image to enlarge
It is 24x10x14cm, the last figure the height is with the six piece 70cm rod aerial retracted. The radio (without optional batteries) weights close to 1.3kilos.
The rear has the rod aerial, line out socket and DC input. The left side has a flip clip that opens the back to allow 4x'D' cell batteries to be inserted. All the controls are on the top of the unit.
The centre of which is a 6x3.5cm black on white five line display. Each end of the top has a large knob the left one is volume when turned and on/off when depressed. The right one moves through menus and selects when pressed.
Above the volume knob are two 3.5mm sockets for headphone/earbuds and Auxiliary input. To the right of these a USB socket to allow you to play MP3 stored on the USB stick. Below this a column of three buttons Mode, Menu and Info. To the right of the display a column of four buttons Forward, Back, Preset and Last.FM.
The display shows what you are listening to IE DAB, FM Internet Radio etc and the current time. The second line is the station or track; the next two lines are details from that station or track and on the fifth line some icons.
Sound quality from a small radio was reasonable from the two speakers, although on occasions I thought speech could be sharper.
The modes available are DAB, FM, Auxiliary, Internet, Music Player and Last.FM. The last may need some explanation, this has two modes a free and paid mode the latter without adverts and you are given a 31 day voucher for the latter with the Radio. Once you have fed some names into the Last.FM site it plays mostly music you like and using the forward button you can bypass anything you do not want to listen to, your own radio station.
On initial switch on you must key in your wireless modem passcode (only needed once) and from then on even after a lengthy disconnection – without batteries - it is remembered and you can then listen to thousands of stations selected by country or genre of just by name. I found the radios buffer excellent and never lost a station.
There is a 100 page manual that is easy to read and has enough illustrations. It explains everything in detail so all features should be available. For example USB stick comes under a sub section of Music Player this is possibly not immediately obvious.
There are of course Alarms and a Sleep timer so it can sit beside your bed. I liked the unit and used it without problems even in area that often struggled to receive a good wireless signal.
My one complaint is that to see the very informative display you have to be above the radio meaning a low table if used in bed. Perhaps a flip up display as with a lot of recent All In One printers would enable reading from below.
While UPnP should normally be easy to setup it often is not and there is a good section in the back of the manual showing possible problems.
Doing my searches found the Roberts Revival iStream at a best price of £187.09 including free delivery from the first link below.
http://www.amazon.co.uk/gp/product/B00453EGH6?ie=UTF8&tag=gadge0a-21&linkCode=as2&camp=1634
http://www.robertsradio.co.uk/assets/Company_news/Revival_iSTREAM_consumer.pdf