Two STM Bags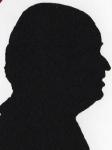 Review controls
Its not often I get to review products made in Australia. In fact to my immediate knowledge I have reviewed only one product previously and that was an excellent software package. Here I am looking at two bags for your notebook.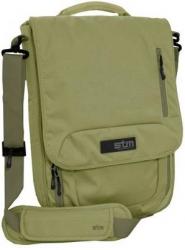 click image to enlarge
I picked two of slightly different size, both allow your shoulders to take the strain, I have worn both while out and about. Which of the many bags that STM do that you pick will depend on the size of your notebook and the other items that you need to carry so this look concentrates on the quality of construction as well as overall size.
Vertical
This is available in a light green or a pale brown colour, mine was the latter. The name describes it perfectly as it has a portrait shape.
It is 38x26x8cm and weights 730grams.
There is a padded carry handle on the back near a slide in open pocket idea for A4 documents. The front has a flap with Velcro to keep it closed and this flap has a 12cm vertical zip to allow small items such as pens and phones to be stored therein.
Lift this flap and then a further Velcro closed flap to reveal the inner sanctum with its protected sides where your small notebook or laptop is safely stored. The inner dimensions are 22x33cm.
However between this back compartment and the front flap are two further graduated open pockets both kept closed when the front flap is down. The larger one will also take A4 sheets while the second one is 23x24cm. Still lower is a zip up pocket 16cm wide at the top and 22cm wide at the bottom, it is 19cm deep, and the zip goes up the side and along the top. Inside the pocket are smaller pockets and an attachment to clip your keys to. One more pocket on the outside a 16cm zip runs along its top and it is 15cm deep. This completes the places to search through for your rail ticket or your wallet at the barrier while the angry crowd builds up behind you.
A nice compact unit and if notebook/laptop fits it has a comfortable strap attached to fit over your shoulder.
Flight
Another good name as this slightly larger vertical bag would go well on a flight to keep your notebook and other bits with you.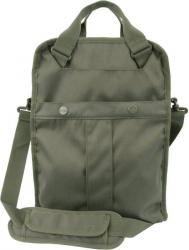 click image to enlarge
It is 40x30x10cm and weighs 800grams. Mine was a shade of pale green. It has two handles stitched in the middle to make it a better carrying experience.
There is a padded shoulder strap that emerges from a back pocket nearly large enough for A4 sheets the top 3cm will be exposed.
The inside has a zip running along the top and down 5cm each side. The padded notebook protection is 32x26cm. The next pocket is felt covered to give some protection and is as wide and deep as the notebook one. One further less protected pocket completes the inside.
There is another near invisible outside pocket as the zip is recessed 3.5cm behind what looks like to dummy studs, this is 24x23cm and has a single slip pocket suitable for coins and a clip to attach your keys to complete it.
This bag has more sideways expansion than the 'Vertical' bag above but to me anyway the 'Vertical' looks a little smarter but regular readers will know I am certainly no fashion icon. Looking at the STM site they currently have a large number of styles in a range of sizes to suit all. They have UK distributors so should be easy to find, these are quality bags and will last.
Various STM Flight bags range from £39.99 from the link below.
http://www.amazon.co.uk/gp/product/B0079QM8RG?ie=UTF8&tag=gadge0a-21&linkCode=as2&camp=1634