Melitta CaffeO Coffee Machine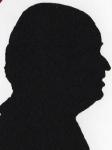 Being able to make a coffee shop coffee at home or in the office needs a machine that can grind beans and dispense the coffee and if a Latte is your choice then a device that can froth with steam from fresh milk this offering from Melitta does both.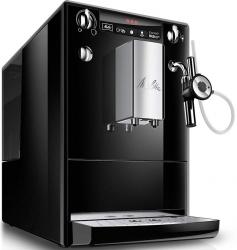 click image to enlarge
The Melitta CaffeO measures 47cm deep, 32cm tall and 20cm wide, these are maximum dimensions.
Unlike a lot of home coffee machines here there are only a few controls, these are for the number of cups – one or two – the size of the cup 30ml to 220ml, the strength of the brew and addition of milk for a Latte.
When you unpack the box you only need to find a place for the machine – as the hard wired power lead is only one metre long – within a metre of a power point. Coffee beans need to be poured into the contained top back right and cold water into the reservoir top back left. That is it apart from attaching the one thing not attached when shipped the device that extracts milk from the bottle/container to be steamed for your Latte.
The fitting of this is explained in the 14 pages of English instructions in the A5 book.
Initially I thought this small device was somewhat of an economy measure as most provide a jug and the steaming takes place in this and unless you are very proficient there is normally some waste. Here it takes place in the cup and the tube goes into the bottle/container and extracts just the amount required so no waste.
As with any device cleaning is vital and this is well explained in the instructions.
In order for your coffee to taste to your liking you will have to adjust the strength and most importantly find a coffee bean like that from your favourite coffee shop.
If you are lucky there might be a shop that roasts coffee if not then there are several that do mail order and then you know your coffee has been fresh roasted rather than sitting on a supermarket shelf for weeks.
This is a cheap machine and it is a good machine. If you were to purchase a quality coffee grinder as a separate and then do what they do in a coffee shop by tamping the coffee and then brewing over the tamped unit the grinder would probably cost almost as much as this machine on its own.
Unlike some other machines you can also adjust the grinding finesse which can also change the taste of the coffee. In all the cups of coffee I drunk while testing this machine there was never any coffee grounds in the emptied cup.
One thing I always get from fresh ground coffee that even a quality instant does not give is that burst of energy which at my age nothing else can give me, I can drink instant coffee in the early evening without problems but if I tried drinking coffee from this machine at the evening time I would certainly not sleep for a good while.
The Melitta 'CaffeO Solo and Perfect Milk' in Black is available from Amazon for £309 and in Silver and Black its £339.