Epson Stylus Office BX305FW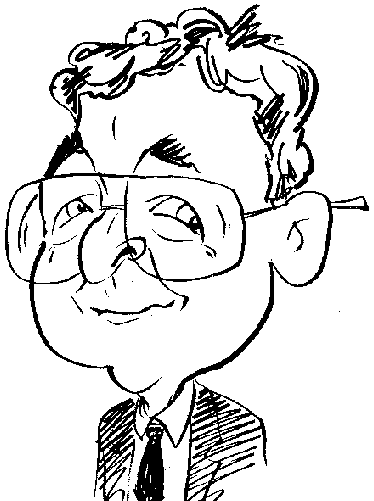 Review controls
Like big red buses, you do not see one for ages and then two arrive in close proximity. This type of situation arose with two Epson multifunction devices.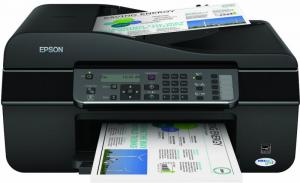 click image to enlarge
With a model number that is similar to the previous Epson All-in-One I reviewed, the Epson Stylus Office BX305FW does have a strong sense of de je vu about its appearance. While not as identical as two peas in a pod, you could be forgiven for mistaking the BX305FW for the BX320FW at first glance. Both models provide print, copy, scan and fax capabilities for the home office / small business user.
Closer examination reveals that the BX305FW has a slightly greater depth (411mm as against 403mm) and it weighs a little less than the BX320FW. However the overall look of a predominately matt black with rounded corners and the same arrangement of an inkjet printer supporting an A4 flatbed scanner and ADF unit remains the same. Paper passage follows the same route from the 120-sheet rear-mounted paper flap to the mouth-style exit with an extendable flap at the front of the unit. You also have a similar arrangement of controls and two-line LCD screen on the sloping panel positioned just below the scanner lid. Navigation, selection and a telephonic number pad plus five speed dial options are available.
One immediate difference comes to light with regards connectivity. You still get USB and Wireless LAN 802.11b/g/n but there is no Ethernet connection option for those who prefer wired networking. There are also some differences when you check out the printing capabilities of this model. Both the nozzle configuration and droplet size shows a difference. While the droplet size is 4pl as against 3pl, the number of nozzles for black and colour have decreased significantly. The colour nozzles have been cut in half while black nozzles show a 75% reduction in number. The BX305FW requires the same collection of black, cyan, magenta and yellow cartridges which need to be inserted into the body of the printer.
Following the standard practice of requiring the software to be installed prior to connecting the unit to your computer network, the BX305FW comes with two CDs that provide software that includes drivers, fax and photo printing utilities. You will be advised when to make the necessary connection using your desired method of Wireless or USB. In addition you get a copy of Presto! PageManager 9 Standard. This document management software does require its own installation routine,
The unit's Fax functionality allows you to store up to 60 names and numbers with the ability for group dialling and sending plus faxing at a specific time. With a fax speed of up to 33.6kbps, a page should take around 3 seconds to dispatch.
The BX305FW's scan resolution is the standard 1200 x 2400dpi. Although the quality of scans was acceptable, the scan speed left something to be desired. An A4 colour image scanned at 300dpi took 32 seconds. The same image scanned at 600dpi required 90 seconds. An A4 black and white image took 10 seconds at 300dpi while a 10 x 15cm colour photo was completed in 14 seconds at 300dpi. All these tests were carried out using the supplied Epson Scan utility.
The ADF unit is meant work in conjunction with the scanner and printer to produce photocopies. I say "meant" as I had great difficulty with this feature. Its performance was even worse than the ADF feature with the BX320FW model. The best I was able to achieve was two sheets of paper being accepted before a paper jam with the ADF unit was reported. Actually the third sheet of paper did not even start to feed through the scanner. My tests were conducted with good quality originals so that there should have been no problem with pages being fed through the scanner. After numerous unsuccessful attempts, I finally gave up on the feature.
Running my usual array of print tests, using the three main print modes of Draft, Text and High Quality, produced a mixture of results. While Draft mode was able to produce 34ppm monochrome and 10.5ppm colour, the quality was only suitable for internal editing purposes as it produced faint text and images. There was a substantial improvement in quality with Text mode although output dropped to 13ppm monochrome and 3.25ppm colour. Switching to High Quality for near-Laser output resulted in 3.25ppm monochrome while a single A4 colour page consisting of 102-words of text and a small image required 75 seconds.
Checking out the unit's photo printing capability revealed a problem. For reasons that I have yet to ascertain why, this All-in-One is not comfortable when fed only a single sheet of photographic paper as you might do for producing a quick photo. When this situation occurs, using 10 x 15cm or A4 paper, the single sheet of photo paper is fed through the printer but no printing occurs. By giving the printer more than a single sheet of paper, printing is carried out normally. Using the supplied Epson Easy Photo Print software, which allows you to make layout and print setting adjustments, a 10 x 15cm image took 4 minutes 50 seconds while an A4 image required 12 minutes 5 seconds. Both images were of best photo quality, borderless prints.
Even though the BX305FW current price point of £79.99 is £20 less than the BX320FW, I can not recommend this model over the more expensive unit. The BX305FW looses out on print quality, speed and functionality. Replacement cartridges are available at £12.17 each or as a four-pack bundle costing £46.49 thus saving you just over £2.
http://www.epson.co.uk/jsps/searchResults/layouts/landingPage.jsp?userQuestion=bx305fw&_dyncharset=UTF-8&_requestid=1658607