Canon PowerShot SX240HS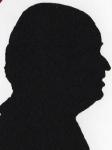 Review controls
While a few may still be wowed by huge MegaPixel, most now know it's the quality of the CMOS that gives quality of image, here you get a perfectly respectable 12.1MP and an excellent 20x optical zoom in a small form factor.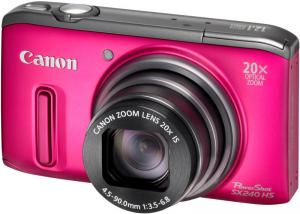 click image to enlarge
It is 10.5x6x3.5cm and weights 220grams. When on the lens can extend by up to another 5cm fully zoomed out.
Mine was silver grey but it is also available in black or pink. The left side is clear, the right side has anchor point for the supplied wrist strap and a rubber bung behind which are HDMI and USB connections. The base has anchor point for tripod – essential if you use anything like the 20x zoom – and a door behind which is the solid battery and any SD card you may use.
The top has the automatic pop up flash a silvered shutter release around which is the zoom/wide angle control and finally a pear shaped slightly recessed on/off button.
This leaves the back which is dominated by the 6.5x4.7cm TFT which is 3.25inches in diagonal imperial measurement. To the right of this all the other controls first a twelve position wheel and below this a pair of buttons the first for rapid swapping from still to movie and the other for reviewing taken images. Below this the obligatory five position joystick and then below this a final pair of buttons Display and Menu to allow changes.
You capture images in L, M1, M2 and S, these are 4000x3000 12MP, 2816x2112 6MP, 1600x1200 2MP and 640x480 VGA. In 16:9 4000x2248 9MP, 2816x1584 4MP, 1920x1080 2MP and 640x360. In 3:2 4000x2664 11MP, 2816x1880 5MP, 1600x1084 2MP and 640x424. Finally in 1:1 2992x2992 9MP, 2112x2112 4MP, 1200x1200 1MP and 480x480. For video you can capture in 1920x1080, 1280x720 or 640x480.
For a novice the Auto mode will give excellent images and capture good movies. The Image Stabilizer will stop all but the most severe camera shake, but with both still and movies if you are zooming more than say 5x then do use a tripod as even when the camera is on a solid object such as a wall with larger zoom you will get movement.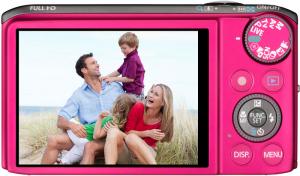 click image to enlarge
While some units have a far bigger range of effects, the ones offered here, Portrait, Smooth Skin, Smart Shutter, High Speed Burst (up to 10 images), Handheld Night Scene, Low Light, Underwater, Snow, Fireworks and two Stitch Assist modes. As far as scenes go there are a massive 58 available which to me is too many.
I often get people comment that I do not praise the image quality, I tend to work the other way and criticise if there are weaknesses. So if I say nothing about a feature it means it does what it says it will do. But for those who want it spelled out, in Auto mode, rather good, in Manual mode rather good, in low light fine, flash when used does not overpower. All in all a very nice small camera that will give you images to be proud of however and wherever you take them.
1600x1200 4:3 images should not be enough to print an A4 image but I did and they were fine, however most were taken at 2816x2112 and I was able to zoom into part of the images and still get a perfectly good A4 image.
As regular readers know I tend to take a reasonable about of video mostly with a 'Flip' camcorder, however when I test a camera I also take a range of videos with it and I was perfectly happy with the results at all resolutions.
Doing my Internet searches found the Canon PowerShot SX240HS at a best price of £239.68 including delivery.
http://www.amazon.co.uk/gp/product/B0074K1JUE?ie=UTF8&tag=gadge0a-21&linkCode=as2&camp=1634
http://www.canon.co.uk/For_Home/Product_Finder/Cameras/Digital_Camera/PowerShot/PowerShot_SX240_HS/