Lenovo 3000 V100 Notebook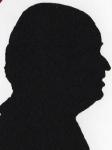 Review controls
For all those that remember IBM's think pads and other great notebooks they are now in the hands of Lenovo. This offering I should have seen in May still eight months late it's here.
Buy Now
Available for £985.81 from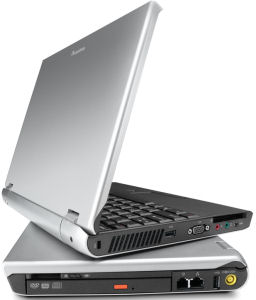 I am told what I have not been sent is a totally new version. It is 30x22x3.5cm and weights close to 1.9kilos. The screen is 26x16.5cm giving the notional screen size of 12.1 inches. There is an 83key keyboard with all but the function and arrow keys being full size. Behind the keyboard are six buttons for on/off and various sound controls together with a range of LED's. In front of the keyboard just left of centre is a good trackpad with a fingerprint sensor to it's right. The top side of the screen has a built in camera that seems to produce quite reasonable images.
The front edge has a pair of speakers and four more LED's. The left side has a Kensington Lock point a USB socket, external monitor port, headphone and microphone sockets along with a PC Express port and a four pin FireWire one. The right side has a slider to enable/disable wireless, a DVD multi drive, an SD card port, modem and Ethernet ports, AC connector and sandwiched between the last two items a vertical USB port. Finally the rear has another USB port.
The unit has a solid feel and should it be dropped you may have a chance of the unit still working. Boot up is a disappointing 90 seconds until you can do something constructive at the desktop. Shutdown from a bare desktop is 35 seconds.
As always I tend to use the notebook for a range of tasks, forget about playing DVD's on battery as the life is not good. As a desktop replacement it could be okay but most desktop users seem to like large monitors/panels. The 1280x800 desktop is clear and easy to read at around 30cm away that a laptop could be on a table or lap but on a desk your eyesight would be tested in a normal working position.
First boot requires a password to be set and you will be nagged to implement the fingerprint scanner as well as several other messages of course the supplied Norton / Symantec software demands attention. This of course require internet access and at least one reboot - this is an improvement - I notice a total of 19 icons in the tray no doubt adding to the poor boot and shutdown times. This unit supports stand by - five seconds - and return from it ten seconds if you are quick with your password. It also supports Hibernation. I often found the latter implementing as a result of a low battery.
It comes with Windows XP Pro (however you should get a Free upgrade to Vista) and then looking through the menus I find a copy of Diskeeper Lite, Google Desktop, Camera Smart Pat (for the Integrated Camera), Inter Video WinDVD, Inter Video WinDVD Creator 3, Lenovo Care, Norton Internet Security, PC Doctor 5, Picasa 2, Roxio, Softex (more security) and Think Vantage. No wonder the 88.8GB has over 9GB used before you start.
It has an Intel Core Duo processor T5600 running at 1.83GHz on mains and 987MHz on battery. It comes with 1GB of memory.
After 30 minutes of light use (little hard disc and no DVD use) it reads 65% from a full charge. So you might expect around 90 minutes total, according to Power Metre you have 1hour 43minutes left. To be fair the Intel Driver for Mobile in control panel was set (by default) to maximum performance), the Power Options Properties was set to Lenovo Default. After 60 minutes it reads 26% and still claiming 40 minutes available. Now I close anything of importance in case hibernation does not kick in and involve it in a game of Freecell. At 80 minutes it reads 10% where a lot of systems would automatically start warning you still claiming 11 minutes then one minute later a low battery warning in the tray and immediate Hibenation. Once on power it reads 2% remaining charging. To a full battery while on it takes 90 minutes.
I did this test five times and each time I got less than 90minutes use.
Doing my Internet searches found it at £985.81 including delivery from the link below.
http://www.amazon.co.uk/exec/obidos/ASIN/B000GG4QBM
http://www5.pc.ibm.com/uk/products.nsf/$wwwPartNumLookup/_TF05CUK?OpenDocument