Linx 8 inch Memoire Digital 'media' frame

Published Oct 31, 2008 Author
petew
Review controls
As in many areas of technology the humble digital picture frame, a fresh idea only a couple of years back, has evolved to take on more functions.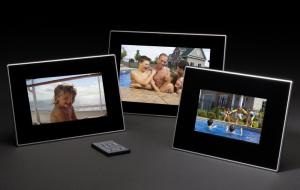 click image to enlarge
This particular incarnation from Linx includes a slide-show picture viewer along with an MP3 and Video player.
First of all the hardware. The screen is a bright 8 inch display with a viewable area of 18cm by 10cm givin it an aspect ratio of 16:9. Resolution is 800x600. All of the controls and connections are on the rear of the unit, including the two small 1.5W stereo speakers. Measurements for the whole unit are 255 x 175 x 35mm (WxHxD) making it quite deep, but this device is designed for desk or shelf use. There are no wall-mount options.
A rear 4-in-1 memory card reader supports SD, MMC, Memory Stick (MS) and XD memory card formats covering a wide range of cameras and phones. Also provided is a standard USB connection into which you can slot any USB memory stick. You can insert both memory stick and memory card at the same time - the system menu allows you to choose the one you'd like to use. You can however only use one media at a time for viewing. Finally there is a USB connection allowing you to connect to a computer to transfer media.
A nice touch is the ability to copy files between memory card and memory stick. This could make this picture frame useful on the road as a way of emptying your camera memory card onto cheap USB storage.
There is no internal memory, however with the price of memory cards this really isn't an issue!
All the operations of the device can be controlled by buttons on the rear of the unit, but this is fiddly. Instead the provided remote-control is much more convenient.
When you select a media type the software automatically locates all suitable media files regardless of menu structure making it compatible with the widest range of products.
Photo Slide-show
The slide show function works well with a wide range of available transitions. The software coped with all the images I gave it regardless of resolution - including some very large camera images. You can choose a favourite transition, have the system run through the entire selection or put it into 'random' mode. The 'Life' option is very pleasant on the eyes involving a slow zoom into each picture.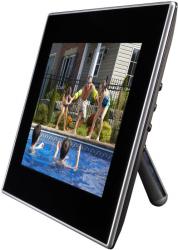 click image to enlarge
If your media card contains music then your can press the 'back music' button on the remote to have background music to your slide-show. In this mode you can't control which tracks are played. It does however open the way to create a set of slide shows on different memory cards each containing a number of themed images and accompanying music.
Music player
The Linx picture frame will happily locate MP3 tracks on your memory card/USB stick and allows you to play through them. Other than select an individual track to play you can't do a lot other than play the entire set (see my comment though above on how this can be useful).
The product had no problem playing any of the various MP3 tracks I gave it.
Despite the small rear-mounted speakers sound quality was ok, especially as a lower volume background to a slide-show.
Video playback
This was less successful. Playable formats include AVI, DivX Xvid and Motion-JPEG. I loaded several videos scaled for my iPod Touch (resolution 480x320) onto the memory card and slotted this into the Linx frame. The software easily located the video. Selecting 'play' started playback, however the video was very jerky and the sound was about 2 seconds behind the image. Recoding to an even lower resolution made the judder less obvious but didn't improve the delay in sound. These videos played perfectly well on the iPod.
Nothing in the manual clarified requirements for video.
Summary
The Linx Memoire picture frame does a good job at providing audio and picture playback and it's very easy to use. It will also accept a wide-range of different media catering for the whole family - or more likely your own evolving media needs as you change devices. It's let let down by video playback - which didn't really work well with any of the samples that I tried.
The Amazon price is £99.98, including delivery.