OKdo's Raspberry Pi 4 kit

Review controls
The Raspberry Pi 4 Model B Starter Kit from OKdo, a brand of the long-established Electrocomponents Group, brings together all the special items necessary to get started and put together a computer based on the 4GB Raspberry Pi 4 Model B single board computer.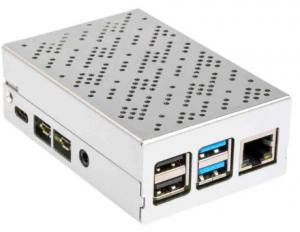 In addition to the Pi itself the kit includes power supply, cables, heat sinks, microSD card with operating system pre-loaded, and a Raspberry Pi case with an integrated fan. This latter is important because the Pi 4 is more powerful than earlier versions and so needs the enhanced cooling that a fan will provide. (You provide your own monitor, keyboard and mouse.)
The metal case is roughly 9 x 6 x 3cm and comes ready punched for all the necessary external connections as well as having a pair of "keyhole" slots to enable it to be hung, for example, on the rear of a monitor although one would have to be careful to ensure that screw heads did not contact the PC board.
There is a "What's in the box" card provided which lists the contents and directs one to the www.okdo.com/getstarted web site where there are step-by-step instructions. Assembling the Pi was straightforward although one does need a certain amount of manual dexterity as well as a very small cross-point screwdriver of the size that one would typically use for the hinges on spectacle frames.
It was then a matter of connecting up the power supply (supplied) together with keyboard and mouse. The mains cable, with its in-line switch, and the two HDMI/microHDMI cables at about 1.25m and 1m long respectively and so are convenient lengths.
When powering up for the first time one gets the message "Please wait while your software is installed on your SD card". This takes quite a while as there is 3951MB to be installed. While this is going on there were on-screen messages providing information about the unit. It explained that the operating system was based on the Debian Linux distribution and then gave information about the software provided and said that one could also go to the Raspberry Pi website for more resources.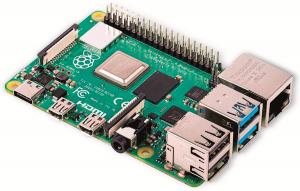 click image to enlarge
There were the usual setting up procedures to go through such as country and language and then making connection to the Internet. Even though wired Gigabit Ethernet is incorporated, WiFi appeared the easier option. In practice, in view of its size and power, I was surprised to find that it only took about 40 seconds to boot.
Having completed the installation the virtually blank screen appeared rather daunting until one noticed the "raspberry" at the top-left corner of the screen. Clicking on this opens the pull down menu that lists programming, education, office, internet, Sound & video, graphics, games, accessories, help, preferences, run and, finally shutdown.
There are many familiar names: versions of Java and Python are there for those who want to program, the LibreOffice suite together with the well-known VLC media player. Hence, one can either make use of existing knowledge of having used these programs on other platforms or, alternatively, gain knowledge that you may even want to use elsewhere at a later stage. There are also a PDF viewer, file manager, terminal and SD card copier under the accessories heading.
It only takes a few moments to appreciate that, even though this is not a Windows machine, there are similar pull-down menus etc. so that one soon gets to grip with this new environment and the available options so as to follow one's interest. Importantly, one can go to the raspberrypi.org web site to access the documentation, projects and the community forums so that one is not left in limbo.
Although it is also possible to buy all the necessary items separately to get a working Pi, a kit ensures that one gets everything that is necessary and that all the items are compatible. Overall, the OKdo Raspberry Pi 4 4GB Model B Starter Kit which is available from okdo.com priced at £99 is a very convenient way to enter, and have a continuing engagement with, the world of the Raspberry Pi.
https://www.okdo.com/p/okdo-raspberry-pi-4-4gb-model-b-starter-set/