4th Generation Raspberry Pi supports 4K

Raspberry Pi has launched its 4th generation model which is significantly faster and more capable than any of the existing products.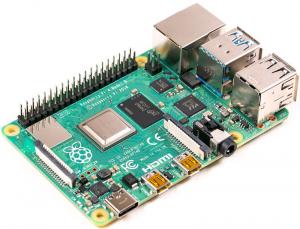 click image to enlarge
Now incorporating Gigabit Ethernet, USB 3.0 and Bluetooth 5.0 it is based on a powerful quad-core ARM Cortex A72 processor running at 1.5GHz it has been designed to be backwards compatible so enabling existing applications, for the most part, should be able to work without modification on the new device.
It is claimed that, for the first time, it replicates the full range of capabilities of a traditional PC from super-fast file sharing, multi-tab web browsing as well as sophisticated video and photo editing. And this is just with a virtually credit card sized computer. It is able to drive two independent 4K screens (two micro-HDMI connectors) and overall has three times the processing power and four times the multimedia performance of its predecessors. This will allow a user to surf the Web, stream films, edit images or even create apps in Ultra High Definition.
It is available on its own as a bare board with the 1, 2 and 4GB variants starting at £33 incl. VAT with the 2 and 4GB versions being priced a £43 and £53 respectively. There are also bundles which include everything needed to replace a desktop machine (excluding the monitor). The Desktop Kit, priced at £105, consists of a 4GB Raspberry Pi 4 board, a case, USB mouse, USB keyboard, power supply unit, two HDMI cables, 32GB micro SD card and a Beginner's Guide to help you get the most out of your Raspberry Pi 4.
As with all Raspberry Pi products, it comes with a range of programming languages, from Scratch to Python and C++, giving users the tools they need to become developers. Consequently it will also appeal to the community of hobbyists and makers that have grown up since the first Pi was launched in 2012. It has been stated that the Pi 4 will remain in production until at least January 2026.
Raspberry Pi co-founder Eben Upton explains that: "The vision behind Raspberry Pi 4 is to make a rich multimedia PC experience accessible to everyone. By offering a 'just right' level of performance for most users, we've been able to do this at roughly a tenth the cost of a traditional desktop PC."
Only having been announced today, 24th June, the list of online stockists can be found on the raspberrypi.org web site. However, as with all Raspberry Pi products one can expect that there will shortly be compatible cases and other products on offer.