Acer Predator Orion 3000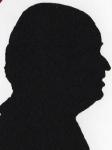 Size matters and here this is a small tower that can deliver as much as most large towers except of course take up far less desk space. So if you need expansion then this unit can give it as there are three slots although one is occupied in the setup sent to me by the graphics card. So what has Acer squeezed into this small format desktop tower.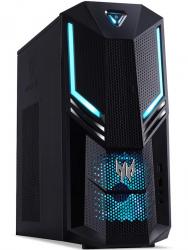 click image to enlarge
It is 34cm deep, 16cm wide and 33cm tall. There is a vertically mounted optical drive 6cm down from the top just right of the centre of the front, above this is the turn on button. Towards the bottom of the front on the right edge a pair of always on connections USB 'C' and USB3 and below these 3.5mm sockets for headphone and microphone. On the front edges at the top are two small flip out handles to hold your headphones as for a gamer hearing tiny sounds can be life or death.
The rear has a kettle style mains lead near the top, just below the centre in strip of connections on the left side are a line of four USB and below these two USB3, below this Ethernet and then three audio sockets.
There are three expansion slots the top one is occupied by the video card that has Digital, Display Port and HDMI sockets. As with most graphics cards this is oversized so it also takes the second slot leaving the third available.
The exact version I was sent is not shown on the Acer site, I have linked the one closest at the end, the difference is that my unit did not have the 128GB SSD just the 1TB hard drive split into 'C' and 'D'. However the exact same unit I had is available from PC World, the first link at the end.
It comes with 64bit Windows 10 Home, 8GB Ram and the 1TB hard drive. The graphics card as this is a gaming machine is NVidia GeForce GTX 1060 with 6GB dedicated memory. The main machine processor is Intel Core i5-8400 Hexa-core running at 2.8GHz.
Once started it did everything I asked, my one slight question was over booting times, these varied from 9 seconds which without an SSD is excellent up to well over a minute and my tests were over several weeks and I always discounted at least two start-ups after an update or a panel change, I used three different ones with this unit. The last Acer unit I had was supplied with Windows V1809 while this one was V1803 with no chance to update so maybe Microsoft have put V1809 on hold yet again.
For its size this is very powerful and no doubt other reviews will tell you how fast it is, I tend to only consider a system for work and that means having several windows open on the same screen, two of the three panels I used were 4K units so lots of screen space to see different programs working away without any delay.
Unit as supplied to me was just the Acer Orion 3000 Predator – no keyboard or mouse – and it is available from the first link below for £799.
https://www.pcworld.co.uk/gbuk/computing/desktop-pcs/desktop-pcs/acer-orion-3000-10181894-pdt.html
https://www.acer.com/ac/en/GB/content/predator-models/desktops/predatororion3000