Canon Selphy ES30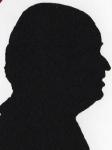 Review controls
A 15x10cm (post card) sized printer, however instead of the normal box shape this is rather like a radio or cassette player as it has a built in handle and is a very thin shape the card (printing stock) handling is unique.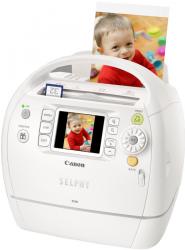 click image to enlarge
The Canon Selphy ES30 measures 22cm wide 23cm tall and 12cm deep. You will need maybe 10cm clear in front of the unit as the card stock is turned in mid air from its landscape stored position to its portrait printing position. It weights less than 2.4kilos even when it has a full pack of 50 cards stored inside.
This can be connected to a PC using a standard USB cable or direct to a camera using Pict Bridge both these sockets are towards the base of the left side. The power lead is inserted in the back. The right side is where the consumables enter. The top has card slots just under the carrying handle. This leaves the front to tell you about.
This is dominated by a 6x4.5cm TFT display. To its left are the on/off button with small LED beside and the Creative button. On the left edge of the TFT are menu, display and edit buttons. To the right of the TFT are four slightly smaller buttons to zoom in and out and to increase or decrease the number of copies. To the right of this is the green print button. Below this is a wheel with a central button and four positions (I would normally call this ubiquitous) but here is also rotates allowing you to move quickly though any images. Below this is a 'back' button.
This allows a good range of manipulation so is more than a standard printer. The only down side I can see is that you have to use the post card sized media supplied by Canon. This is good quality as indeed is the four pass printing process but you are limited to 15x10cm size. The actual cards are 17x10cm with micro fine selvedge areas at each end. These are not standard as the front (left side) has a 1.5cm edge and the back (right side) .5cm. The backs do have normal post card markings with the area for the stamp etc should you actually want to post them.
The printing process takes the image about 1mm over the left edge and 2mm over the right edge. Quality is superb and no danger of the prints smudging as they emerge totally dry.
The four pass takes 75seconds from you pressing the print button till the print emerges from the top of the unit. All basic editing can be done on the unit as well as some not so basic stuff. For instance for those very special items – like say party invites – there is a special pack of 20 with either gold or silver ink and special cards. Remember that the media and inks are sold in a single pack.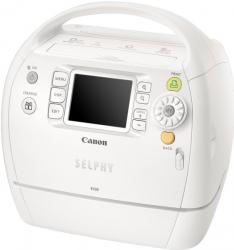 click image to enlarge
The card slots are for SD or MMC, mini SD or micro SD (direct) in an arrangement that allows you to slide a slider one way for full size and the other for small size so need for an adapter. Also supported are the other two main types xD and various types of memory stick it also supports Compact Flash and the slightly larger MicroDrive. Also you have the two side connectors for direct connection to a PC or to a camera. However although the USB connection allows a flash/stick USB drive fits it will not recognise it and to me here Canon missed a trick as certain printers do have the capability to recognise these USB flash/stick drives.
It can also print using an optional Bluetooth adapter so printing direct from your PDA or phone is possible.
The Canon site says prints are guaranteed for 100 years I suspect few will live long enough to claim if they only last say 90 years.
I see from the Canon site it also supports 12x9 and 8.5x5.5 media but I have not seen or used either of those sizes. It comes only with a starter five pack and while you buy 50 sheet packs you will need a way of knowing how many you have printed/left as there is no indicator to say and 'sods law' says you always print the last sheet when you need to print a few more.
Doing my Internet searches found the Canon Selphy ES30 at a best price of £118.59 including shipping from the first link below.
http://www.microwarehouse.co.uk/catalogue/item/A0457402
http://www.canon.co.uk/For_Home/Product_Finder/Printers/Direct_Photo/SELPHY_ES30/index.asp