TP-Link extends Wi-Fi range

The TP-Link 300Mbps Universal Wireless N Range Extender model TL-WA850RE provides the means of improving the coverage of your 2.4GHzWi-Fi network. It is a stepping stone to extend the reach of the network, or fill in dead-spots where there isn't a really useful signal as well as improving existing data throughput where signal strength is weak.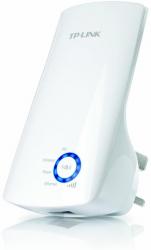 click image to enlarge
The underlying issue is that, all too often, we find that thick walls, ceilings and metal objects can impede wireless connectivity around the house. A suitably located wireless extender can often bypass dead spots so as to provide more reliable connectivity by picking up the available signal and re-radiating it so that, effectively, it becomes a satellite source of the necessary signal while at the same time maintaining the same level of security.
The TP-Link range extender is white in colour and so will normally blend in with home or office when plugged into a mains socket. It is about 110mm high and 65mm wide and has a standard 13A plug on its rear face. It projects forward about 40mm when plugged in. On its lower surface it has an Ethernet connector and the (recessed) reset button while on its face are the WPS button and status lights.
It is straightforward to set up. Just plug the range extender into the mains near to your wireless router and then, on you PC, look for it in the list of available wireless connections. Then, once you have selected the TP-Link extender and made the connection, open a web browser, and go to tplinkextender.net and log in connected to it. Then, from the available wireless networks, select the appropriate one.
Having selected the one you want, when you move onto the next screen you are asked provide your wireless password. There is a warning note in red to remind you that your wireless password must be the same as that for your root device. Having completed the configuration it then takes just a minute or two for the extender to make the connection to one's router.
The extender can then be taken without altering is settings to where it is needed but which, obviously, must still be within the effective range of one's router, and then plugged in.
With my laptop at the far end of the garden I found that when I plugged in the extender in the garage the data rate to my laptop doubled as compared with the throughput without the extender.
While this extender cannot be guaranteed to solve every network connectivity problem, when suitably sited, it can improve signal strength and so improve data throughput. Furthermore, it does not just have to be kept in one place it can be quickly moved to different parts of the house as needed to provide a convenient Ethernet connection as well as improved wireless connectivity.
At a list price of £29.99 but available on Amazon for £23 it is a simple and cost-effective way of improving wireless connectivity around the house.