Revell and Zappit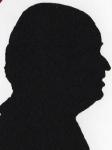 Review controls
A rather large remote controlled car that some children may find difficult to stop their parents using, it is stated at 8+. The Second a reaction testing device designed for children or almost any age and even those of pre-school seem to love trying it.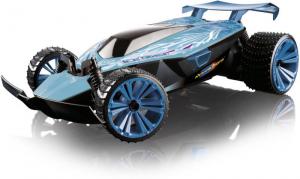 click image to enlarge
Revell Ice Blast
This is a 1:18 scale car that works by remote control on the 2.4GHz band.
It is 29cm from back to front and 14cm wide at the rear wheels, the maximum height is 9cm. It weights 550 grams.
Apart from the car you also get a rather large remote, a charger unit for the cars battery and a plastic coin that allows you to turn the screw on the battery bay to remove it for charging.
One thing not supplied is the serrated knife needed to extract the car from the thick plastic wire that secures it in the mass of polystyrene packaging, yes I tried my normal industrial scissors but they could not cut it as it was to tightly secured, so parent or guardian be on hand to do this task.
There is an A5 User Manual with six pages in English, while most children who tried it just learn by trial and error as a mere man of mature years I tended to read the manual.
There are two gear settings gear one for indoor use or steep inclines and gear two for outdoor use. It is also possible to set the unit to drive in a curve by adjusting a setting on the base of the car. You could design a banked circuit and then see the springing and wheel movement.
While the unit is driven by a solid rechargeable battery the remote needs 4x'AA' batteries that are not supplied, you will also need a small Philips type screwdriver to get access to the battery bay.
I requested this when there was ice on the ground but due to supply problems it arrived with me in what we call summer, no ice but plenty of wet ground.
The children who tried it liked it and soon picked up the controls and could make it do things that I would not have attempted.
I noted that quite often their parents wanted to try it too and while they were less proficient they seemed to enjoy themselves.
Having separately sprung wheels means that poor surfaces can be dealt with and the tyres are soft rubber and indeed the manual goes into changing both springs and tyres.
It suggests learning on a large empty parking lot, well the children were quite happy in a driveway and these days a parking lot is not often empty let along safe.
The Revell Ice Blast 24560 is available from the link below for £34.15 with free delivery.
http://www.amazon.co.uk/gp/product/B009L00U7S?ie=UTF8&tag=gadge0a-21&linkCode=as2&camp=1634
Zappit by Tomy
When children test certain products they often like to try this little item that has been sitting in my hall for sometime. It is a recaction tester but while this can be made of anything as far as actual reactions are concerned this little toy always seems to delight kids.
It is 16cm long, 3cm wide slightly curved and around 1.5cm wide.
It is supplied fitted with a 3volt watch battery that will last a very long time.
The front has a row of ten red lights at each end there is a button, it's a game for two players but I find that even one enjoys seeing how quickly they can react to the lights.
The speed of the light varies (it gets faster) and the object is to be quicker than your partner to react.
A very simple toy from a company most known for products for babies.
To be honest I do not know how it arrived probably in a mixed bag from one of the toy events but it always seems to amuse pre teen children who arrive to test various other items like the Ice Blast above.
I have one complaint it's the packaging that requires industrial scissors to open even though its been around for a while I still remember the struggle to open it.
While I have seen it in shops it is available from the link below for £14.59.
http://www.amazon.co.uk/gp/product/B000JLJMO0?ie=UTF8&tag=gadge0a-21&linkCode=as2&camp=1634