Pentax K-01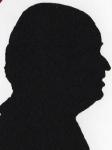 Review controls
It seems a long time since I have been able to enjoy the extras of a DSLR camera. So the arrival of this Pentax offering that I first saw at a London launch last autumn was an eagerly and long awaited event to savour.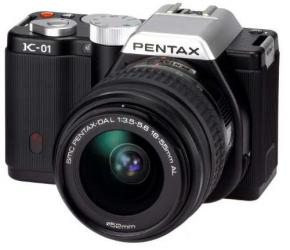 click image to enlarge
The Pentax K-01 compact system camera weights 765grams and is 12x8x14cm the last figure varies according to how much the lens is extended. I was sent the 18-55 option. As this unit does not have a mirror what the TFT sees is what you capture via the lens.
Without the lens being considered it is a very 'boxy' unit. I remember at the initial launch taking images and then thinking where does the SD card go as it's not in the battery bay. Not having a manual at the time I had to ask and was shown how the rubberised right side panel opens to display the SD port as well as AV and HDMI sockets.
Both sides have neck strap anchor points, the base has the solid battery insertion point, the front has whatever lens you fit. The top has a manual pop up flash with its button to its left; it is never nearer than 9cm to the lens even though it's mounted directly behind it. A ten position wheel and on/off twist wheel with the shutter release in its centre are to its right. As the body is so wide there are four further buttons in a line behind this.
This leaves the back dominated by the 6.5x4.5cm TFT display (3inches diagonal imperial measurement) a vertical line of four buttons is to its right and then beside the two lower buttons the ubiquitous five position joystick control.
Unlike some DSLR units this does not have a viewfinder mainly because of the flash block being in the same place but this means anyone progressing from a small digital unit still has the TFT being used to focus images.
Having moved the adjustment wheel to 'Auto' it just remains to switch the AF/MF switch located just behind the lens on the left side to AF so you can them immediately take perfectly acceptable images while you learn to use the camera.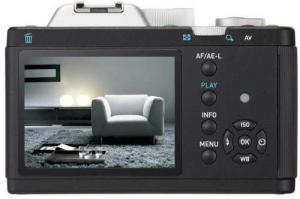 click image to enlarge
As regular readers will know I love a manual and this small –in dimensions- 280 page offering will tell you everything. It has a page devoted to the 16 possible image sizes that it can capture four each in 16:9, 3:2, 4:3 and 1:1 these vary from 4928x3264 (16MP) to 1728x1728 (3MP) each can be saved in three compression settings and the highest in each format can also be saved as RAW. So I suppose 16 becomes 52 so excuse my lack of detail.
As far as movies go these can be captured in Full HD, HD or VGA the first and last in three frame rates 30-25-24FPS, the HD option has the same choices plus 60 and 50FPS.
I was amazed at the low light performance and most images could be captured without it, yes my review did take place in summer but I took images in poor light and got good results, add a tripod and the flash becomes almost redundant accept in near darkness.
I was happy with all the images I took, crisp, sharp and good depth. Having only A4 printers means either printing a small part of a high MP image of cutting the resolution down either way the results were rather good.
This DSLR unit is a good way for someone to progress from a digital camera as once you get beyond Auto and AF you can really say I took these images and they are good because of my calculations and not that of the camera.
Doing my searches found the Pentax K-01 at £646.42 with free delivery from the first link below.
http://www.amazon.co.uk/gp/product/B0073TGL3G?ie=UTF8&tag=gadge0a-21&linkCode=as2&camp=1634
My unit was black but I see from the link a yellow option is available as are other lens options.