Olympus E-M5 II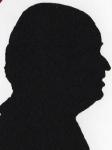 Review controls
While a lot of better mobile phones has decent enough cameras I still get a buzz to test out a proper interchangeable lens camera from a good manufacturer. Here is such an item from Olympus now at M5 iteration II.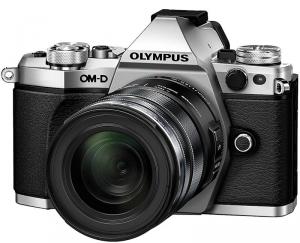 click image to enlarge
The The Olympus E M5 II is not a large unit but is powerful and the images its takes are superb.
As always I start in Auto mode while I familiarize myself with everything it can do. My first time out with it was taking photos in a pub of a jazz gig the first test passed with flying colours as this unit comes with a flash shoe but not a built in flash and I wondered whether the small amount of stage lights would get acceptable images not only were they excellent I also got a couple of short video clips both far better than my own unit could achieve with flash.
It is 13.5x12x8.5cm and it weighs only 657grams with the supplied 12-50mm lens.
While I did take a range of images outside I was so impressed with the indoor shots from my first low light gig that I took it to another and while a lot of flash took place from others my images were entirely without flash and as some musicians can be distracted by flash I was not guilty of this.
All adjustment is motorised inside the lens so it does not move in or out. The unit can take both RAW and JPEG images the latter in various image size.
A single rubberised flap on the left side hides USB, A/V, HDMI and Microphone sockets. The right side has a flip open door that you insert any SD card in. The base has a tripod screw anchor point as well as the door to insert or remove its solid battery. The face has the lens with Macro and L-Fn buttons on its side. This leaves the busy areas of rear and top to run through.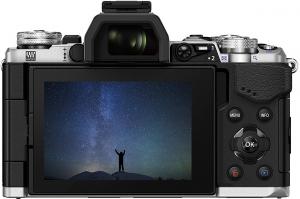 click image to enlarge
The back is dominated by the 8.4x4.2cm TFT display which can be flipped through 180 degrees to protect it and open the viewfinder or it can be opened alongside the unit should this way help shooting. To the right of the TFT are two pairs of well-marked buttons above and below the ubiquitous five position joystick control and above this a well moulded thumb anchor point.
Top centre is the viewfinder that is only live when the TFT is twisted closed and on top of the viewfinder is a shoe for any flash you may attach to the unit. To the left a nine position wheel with its various shooting modes and the on/off slider between the wheel and the viewfinder. There are no less than four function buttons as well as four other marked button and the instant video button to the right of the viewfinder just behind the shutter release. On either edge of the top are two strap anchor points but as the camera is so well balanced I never felt the need for a strap, this was just as well as when the camera got to me one was not in it nor was the manual the latter would have been nice to confirm a few thoughts but it did not affect my images.
One rather strange item that was in the box was a 9 volt battery that I never found its purpose.
Images outside in both strong sunlight, normal light and low light were all excellent and all indoor images – all without flash – were great even in low light. The videos I took were fine and the internal microphone gave great sound quality.
I thoroughly enjoyed my test time with this unit as for me working out what a camera can do is pure enjoyment which you do not get with a phones offering.
The Olympus E M5 II is available from Amazon for £819.22.