Epson A3+ Printer SC-P600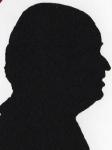 I saw this unit at the BETT (Education Show) at the end of January and the quality of its output was the reason I requested it. I knew it would be big and expected the normal review place in my cramped office not to be enough, I was wrong.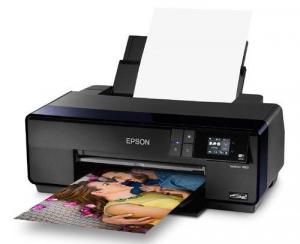 click image to enlarge
The Epson Sure Colour SC600 measires 60x28x22cm when shut. Add 15cm to the last figure the height to put a stack of A4 in the sit up and beg back tray. Add 21cm to the depth to cover the paper output tray, so 60x49x37cm is the total space needed to have an A3+ unit in your office. If you use A3 paper in the tray make the last figure (height) 49.5inches.
This is not a speed demon and even in its fastest mode it's not that fast, however you would never buy this quality unit to print anything but high quality documents and images.
In best mode it is slow but the wait is worth it as the quality from this nine cartridge product is worth it.
For those that do not know A3+ is larger than A3 which itself is four times A4 and the standard was first used by printers who could then cut off printing marks etc. and get a full image on A3.
Installing the printer driver and the excellent Epson Photo Print software took 210MB of hard disc space and around 10 minutes in time.
This unit can run either via USB or Wi-Fi.
The front right has a flip up 19x5cm display panel that has a clear 5.5x4cm display and just three large buttons to its left so even people like me that have it on the floor can easily read the touch display and find the on/off button sitting at their desk above it. The other two buttons are Back and Home.
12 seconds after pressing the on/off the system is ready to print.
So now for the bit that may put some off the timings, that I think are irrelevant but I have to give them.
Printing an A4 monochrome page on plain paper in 'speed' mode takes 25seconds. In 'quality' mode it takes 40seconds; the latter is crisp and black the former a little grey.
For photo printing I only ever use 'quality' mode and photo paper an A4 image took just over 3 minutes while an A3 image took just 8 minutes. In all cases the output was dry and the printed images were excellent.
One word of warning if you capture images at lower resolutions they may not blow up well remember an A3 image is four times the size of A4.
This is a nice unit that can handle photo paper through the sit up and beg tray with no problems so not a single paper jam throughout my whole test period.
Are nine inks an overkill you must decide, you get four different shades of black, two of cyan, two of magenta and one yellow.
The Epson SC-P600 is available from the first link below for £560 with free delivery.
http://www.amazon.co.uk/gp/product/B00P7JC7JQ?ie=UTF8&tag=gadge0a-21&linkCode=as2&camp=1634
www.epson.co.uk/gb/en/viewcon/corporatesite/products/mainunits/overview/13682