Epson EcoTank ET-M1170

Review controls
The mono Epson EcoTank ET-M1170 has been designed to be the workhorse for the advanced student or small business which needs a low-cost means of producing large amount of letters, reports or other documents.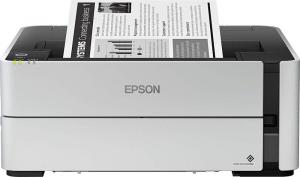 Being just 375mm wide x 347mm and just 151mm high (even though one needs extra headroom to collect the output or when using the rear single sheet feeder for special media) it takes up a relatively small amount of real estate. It has been designed so that side access is not required and, with its small size and being light grey and black in colour, it can blend unobtrusively into most environments. Furthermore, weighing 4.3kg (plus paper) if required it can easily be moved from desk-to-desk or room-to-room and immediately start working via WiFi.
It has a drop-down front and pull-out paper drawer with a capacity of around 250 sheets as well as the single sheet by-pass on the top of the machine. This latter is suitable for paper up to 256gsm. When printing many pages at one time I found that the pages did not always stack as neatly as they should but that was no real problem.
Alongside the paper drawer is the ink tank which is made of a translucent material so that the amount of ink remaining is readily visible. A small flap on top of the machine provides access to the ink tank so topping up is a straightforward task. The ET-M1170 has low operational costs as a 120mL refill bottle of black pigment ink, which is claimed to print 6,000 pages, costs just £13.41 incl. VAT. Even though this is, no doubt, an optimistic figure one should be able to expect a reasonable figure of at least two or three thousand pages from each bottle. This can probably be extended by going to Setting and choosing to print in Draft mode. The print is grey, rather than a solid black, and so can be expected to consume less ink.
This printer can be connected via WiFi (WPS), Ethernet, WiFi direct and USB. I found both WiFi and Ethernet straightforward as was Epson Direct and I assume that, similarly, USB connectivity would be equally simple. However, the fact that it does not support Apple AirPrint could be a deterrent to those who use iPhones and other Apple products.
With a print resolution of 2,400 x 1,200 DPI one would expect that the printer will be able handle small print sizes. In fact I found that type as small as 5pt came out remarkably well even though I had to use a magnifying glass to be able to read it.
Epson quotes ISO/IEC print speeds of 20 and 9pages/minute respectively for single and double sided operation. While these are an appropriate measure when comparing the specification of the ET-M1170 with that of other printers, reality is a little different even though the print speeds are very acceptable. In practice it is quiet in operation and takes about 6 seconds to print the first page with 10 single-sided pages taking about 35 seconds. However, 10 pages double-sided take 2 minutes 20 seconds i.e. 140 seconds. This is longer than one might have expected but one must not overlook the time needed to draw the paper back into the printer prior to printing the second side. In addition, the ink must be allowed to dry.
Hence, if speed is of the essence one would have to print single-sided even though it makes more sense, ecologically, to print double-sided.
Other features, accessible from Settings, include the ability to add a watermark or an anti-copy pattern. With the latter documents are printed with a background of dots which just appears to be a grey background. However, when photocopied, words appear in the copy's background to indicate that it is a photocopy. These features could be very important in a business or academic environment where confidentiality and document control are important.
In view of the fact that most people will also want a scanner and colour printing (at least some of the time) the ET-M1170 is unlikely to the sole printer in the home or office and is more likely to be the second printer that has been bought to fulfil the need to churn out large quantities of letters, reports etc. Hence it could be argued that the lack of AirPrint is not significant.
While the up-front price (£213.40 on Amazon) is relevant the lower running costs afforded by the ink tanks vs ink cartridges when printing a fairly large number of documents assume greater importance. Consequently, this printer could well be an attractive proposition for this sector of the market where users need a printer that just gets on with the job especially as Epson claims it can cope with a duty cycle of 20,000 pages per month.