Epson WF-110W portable business printer

Review controls
The Epson WF-110W portable colour inkjet printer is not an office printer but a business printer aimed at the business traveller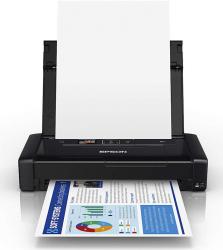 click image to enlarge
It provides a convenient means of printing a few pages while in a coffee shop, an airport lounge or even while on a flight as well as those occasions when one cannot afford to entrust confidential printing to prying eyes in a hotel's business centre.
Looking at first glance like a black brick just 310 x 155 x 60mm in size the basic unit weighs 1.7kg and can be easily handled and placed in one's baggage safely without the need for any additional case. The mains power unit (for 100-240VAC) and cables weigh a further 320g. (By the way, mains lead with the review unit was supplied with a continental plug rather than a UK standard 13A one but I assume that normal units will be provided with the correct, localised, plug.)
Part of the unit's cover folds back to provide a paper guide and to expose the controls and the 37mm colour LCD display. At one end of the unit is the power connection and a microUSB 2.0 connection while at the other end is a Kensington security slot to enable the printer to be secured and so reduce the risk of casual theft. LEDs on the front of the machine indicate charging status and printing activity.
While it can print via the USB 2.0 connection, which can also be used for charging the battery, as a portable printer it will generally be used wirelessly. It was a straightforward task to connect it to my Wi-Fi which I used initially and which will often be used where there is a network available. For those on the move peer-to-peer protocols Wi-Fi Direct or Apple AirPrint will be useful options. In addition, with Epson iPrint downloaded to one's phone, one can monitor the remaining ink as well choosing Print Photos, Print Documents, Print from Cloud, Document Capture or Creative Print. It would be sensible, however, to do one or more "dummy runs" before travelling to familiarise oneself with the necessary procedures for whichever will be your preferred means of connection.
Although Epson claims print speeds of 14 and 11 pages/minute for mono and colour printing respectively the ISO/IEC specification, when running from the battery, quotes 4 and 2 pages/minute I do not think that this is particularly significant. After all, for the target users the ability to print those few documents as and when needed is far more important than actual speed.
Epson claims that, when its built-in battery is fully charged, it can print 100 pages mono or 50 pages colour. At any time the user can display the available power as battery status in one of the menu options. The claimed page yields -- based on the ISO/IEC 24711 and 24712 standard -- for the pigment (rather than dye) inks -- are 250 and 200 pages for black and colour respectively. These figures are useful for comparison purposes but may or may not be achieved dependent on particular usage.
Having a list price of £219.99 but available on Amazon at £199.99 the WF-110 may be considered to be quite expensive for a printer which will only be used to print a relatively small quantity of documents. However, there are many business travellers who will consider that it is worthwhile as it adds an appreciable amount of value to their work while away from base.