Canon Pixma MP970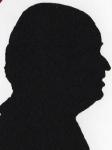 This is quite a beefy All In One unit, so it scans, copies and prints via the PC. It can also copy when not connected to the PC and it also prints directly from a range of card media.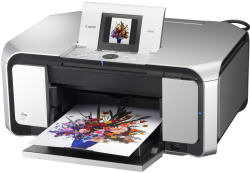 The Canon Pixma MP970 is 46x40x22cm when closed. The output shelf opens automatically at print time and initially this adds 13cm to the depth. Having paper in the rear mounted tray adds 18cm to the 22cm height.
All the controls surround the screen that flips up in the central part of the top at the front and as this goes to just beyond 90 degrees you can choose the display angle. The screen is 7.5x5.5cm there are twelve buttons -all clearly marked- and a multi position joystick to control the unit.
The default action when you turn the unit on is to copy but click on the joystick and you can toggle through print, DVD/CD label print, photo index sheet, settings, film print, easy photo reprint and memory card so this is certainly no dumb unit.
When printing there are four modes high, standard, fast and custom. In fast mode printing the 200 word test document it prints at 16PPM, printing a more normal 1500 word document spread over four pages prints only slightly slower at 14PPM. In both cases the out is fine for memos etc, should you go up to standard the output is excellent but of course slower. This is a seven ink printer that contains two reds, two blues, a yellow and two blacks. Printing an A4 image on photo paper borderless takes less than two minutes from sending it to taking a slightly tacky to the touch image out.
As a scanner the flatbed lifts on the landscape and small books hardly seem to raise the lid giving excellent scan results. The software provided gives all the options and choices, Colour Photo, Black & White Photo, Colour Document, Black & White Document, Magazine Colour and OCR. Select the one you want and press go. In round figures it's about 15 seconds a black & white page and 20 seconds for a colour one. There are also options to scan film (the default for this is 1200DPI) and even images from a photo card although assuming they are already images why would you want to scan them?
Copying can be done either from the unit where it is a lot easier than on some AIO units as all the options can be changed (one at a time) from a single on screen menu. A single colour copy takes around 40 seconds and the same in black & white 20 seconds. These are as good as the original when you are copying colour documents on plain paper, even tiny print reproduces as sharp as the original. Copying from Windows is slightly easier as any changes are slightly easier to make although the difference is not as great as with some AIO units as the menuing here is much better.
You can also fit a provided CD/DVD holder and it is possible to print directly onto specially coated media please do not try printing onto standard media as the ink will never dry and you will end up with a yucky mess.
When printing direct from photo cards it uses the thumbnail method, printing six images per line and six lines of images so up to 36 images per page you then mark a thick clear mark is required in the specified area below the image here are the choices available, firstly paper size, 4x6inch, 5x7inch, 8.5x11inch or A4. Next paper type photo paper or plain paper, then bordered or borderless. Then do you want date printed, auto image fix and or red eye correction. Next print each image one, two or three times each. Certainly no dumb unit this.
Doing my Internet searches found the Canon Pixma MP970 at a best price of £201 including delivery from the first link below. Not by any means cheap but it is a quality unit.
http://www.amazon.co.uk/gp/product/B000UX3U9U
http://www.canon.co.uk/For_Home/Product_Finder/Multifunctionals/Inkjet/PIXMA_MP970/index.asp