A Dual Purpose Mouse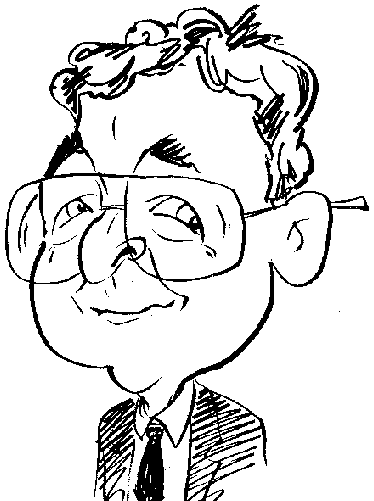 Review controls
Turn a standard mouse upside down and you have an inactive piece of kit but this is not the case with a new product from Kensington.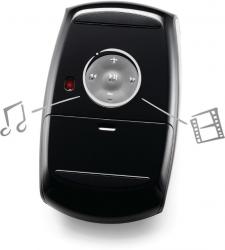 In the same way that keyboards have been designed with enhanced features, such as multimedia controls and zoom capability, their usual companion, of a mouse, has followed a similar pattern as is exemplified by this next product. This is the SlimBlade Media Mouse from Kensington.
This offering is a laser mouse that communicates with the computer via a USB stick receiver with a wireless 2.4GHz signal operating on a range of up to 30 feet. While not as small as the nano receiver used by Kensington and other manufacturers of mice, this USB receiver is small enough not to cause a problem by being knocked when protruding from a laptop. When not in use the USB receiver can be stored in a slot alongside the battery compartment which holds two AA batteries that Kensington estimates will provide six months of power with normal use help, no doubt, by the mouse automatically switching off battery power when the computer is in sleep mode.
As its title implies, this mouse is rather slim when you take an all-round measurement. Whereas most other mice in my possession tend to measure at least 18cm if you run the tape around the body of the device, this Kensington mouse is a trim 16cm. The more normal measurements, for such a device, of length, width and height are 110 x 65 x 25mm.
Slab shaped with a slightly curved top, this ambidextrous mouse is predominately black with a reflective sheen. Running along either side of the device are dimpled panels of a light grey colour that do help provide a firm grip of the mouse. Elongated left and right buttons are situated either side of a small black ball surrounded by a silver collar. This ball is a replacement of the wheel control we have come used to with various other mice. The use of a ball rather than a wheel allows for a full 360 degree of scrolling but does mean you miss out on an extra click button.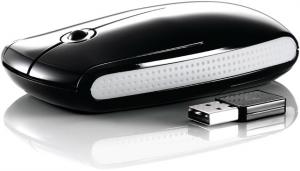 click image to enlarge
While 360 degree scrolling might be advantage, it is not the reason for this device being referred to as a Media Mouse. For that particular feature you need to turn the mouse upside down. Located on the base of the unit is a grey, rubber circular control pad. This can be used to stop/start a video/music file; cycle backwards and forwards through tracks; and adjust the volume level up or down. You do have to use the mouse in its normal mode to start the media player and select the appropriate mode.
In most cases the various media controls worked fine as the volume level can be adjusted, tracks stopped and started, and the ability to move to the previous or next track. However while all these controls performed their task when using Windows Media Player, MusicMatch and RealPlayer, I did encounter a problem with the popular Winamp application. I could adjust the volume level but got no response with any of the other controls. The same problem has occurred with an earlier product from Kensington and was reported to the company at the time. Obviously Kensington has not been able to correct the problem.
Generally I found that the SlimBlade Media Mouse provided smooth scrolling. Some adjustment was required on my part to ensure I moved in the correct direction when using the scroll ball but this improved with practice. Within its limitations, the media controls were fine unless you happen to be a fan of the Winamp software. Kensington has priced the SlimBlade Media Mouse at £39.99 and supply the product with a five year warranty.