Epson WF-2860 4-in-1

Review controls
The WF-2860DWF is a 4-in-1 print, copy, scan and fax inkjet machine in Epson's Workforce Range that is targeted at the smaller business user.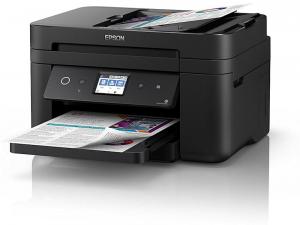 click image to enlarge
This compact machine is 375mm wide by 360mm deep with the control panel swivelled up to a convenient viewing angle. Although it is only 230mm high, it needs additional headroom to allow one to use the fold-away ADF and even more when opening the top of the machine to change the ink cartridges. Power, Home and Help are the only buttons on the control panel at the centre of which is the 35 x 50 mm colour LCD. There is also an NFC hotspot marked on the control panel.
Although fundamentally an A4 machine and one that is limited to using paper from 64 to 95gsm (and so is not designed to handle heavy weight photo paper) the 150-sheet capacity paper tray has guides that enable it handle smaller paper sizes as well as C6 and DL envelopes. There is not a separate single-sheet feeder. Copying and faxing via the 30-sheet capacity ADF is essentially restricted to A4 even though originals of other sizes can be placed directly on the glass platen.
There are a wide range of connectivity options in addition to the phone connections for fax, However, despite it being a 4-in-1 machine a phone line connecting cable is not provided even though the instruction leaflet states that a standard RJ11 is required and that "If you do not need to make fax settings go to step 4".
USB, Ethernet and WiFi connections as well as mobile and cloud printing services via Epson Connect and Apple AirPrint etc are provided. Setting up the WiFi connection is straightforward even though I found that the touchscreen LCD display is a fraction too small for my fingers – especially when inputting the WiFi password – so I used a stylus.
Having up to 4800 x 1200 dpi colour resolution the printer employs pigment black and cyan, magenta and yellow dye inks. Printing quality is very good with type still being remarkably sharp down to 5pt even though one needs a magnifying glass to read it. The ISO print speeds quoted by Epson 14 ppm mono and 7.5 ppm colour for single-sided and 6.5 and 4.5ppm for mono and colour respectively for A4 pages.
As well as the 502 series of standard cartridges, Epson offers 502XL. These have 2.5x the capacity and offer a reduced cost per page. Nevertheless, taking the list price of black XL cartridge and the claimed page count, the printing cost nevertheless is still 5.27p per page.
In addition to the basic mono and colour copying there is the facility to copy multi-originals on both sides of the paper and copying multiple originals onto a single sheet. Loading the originals into the ADF and making the selections on the touch screen was very straightforward for double sided and only a little more complex for multiple originals on the one page. While these facilities may not be an everyday requirement they could well come in useful on occasions.
Although I understand that the scanning software can be installed painlessly when machine is connected to a single PC via USB, I found that with the WF machine "networked" it was more difficult and took a while to get sorted out.
The ADF also worked satisfactorily for scanning. It is, however, necessary to tell the application that one is using that it is working with a single-sided ADF and not a double-sided one. Alternatively, the originals can be hand loaded onto the glass platen page-by-page. In this context, as we are increasingly wanting to scan double-sided documents, the limitation of this being only a single-sided ADF became immediately apparent.
Having a list price of £99.99 incl. VAT, this machine is targeted at the small business user who does not have a large amount of space or need to print large numbers of documents. It will meet the majority of their printing, copying and scanning needs even though its use is somewhat limited by the single-sided scanner and, for those who need to use more than one type or grade of paper, the single paper tray.