Brother MFC-J430W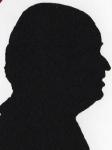 Review controls
This is a multi function unit (it has fax) and it can connect either by USB or Wi-Fi. In fact I used both with equal success. I did however have a failure as no matter what I tried it refused to feed photo paper in any way.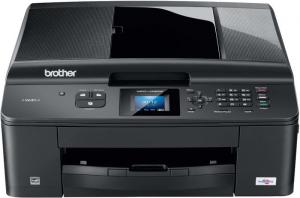 click image to enlarge
The Brother MFC-J430W measures 40x37x18cm, the last figure the height will need a little extra to slip an A4 landscape page onto the flatbed, probably around 5cm which is around the same amount as using the ADF which flips open from the top. This is a four ink and four cartridge unit.
Installation time did not seem to vary much when you picked USB or Wireless the latter does of course need you to enter your passcode for your router or to temporary attach a USB lead which seems to be a rather strange way to setup wireless it also means that you have two printers setup on that PC. The time taken was around 25 minutes.
The space taken was 350MB for MFL ProSuite and PaperPort12 for scanning to OCR, again this did not vary.
The power lead and phone connectors are on the left side near the back, the USB connection fits inside the unit entering at the back right of the unit. Everything else is on the front edge of the unit.
There is a small on/off button nearest the left but this needs a confirmation before it activates. Next are the three main buttons, Fax, Scan and Copy. Moving towards the centre is the 5.5x4cm display and to the right of this a further 24 buttons including five for the ubiquitous five position joystick control to help navigate the menus.
Once you have selected your language everything else seems to be remembered or recovered even after a lengthy power removal as both time and date can be important for faxes. However my opinion is that fax is dying.
It has a power save option where the screen blanks and the unit goes into sleep mode, there is also off – without pulling the plug out – where the unit is shut down but when you restart everything including time is correct.
Stated printing speeds should now be achievable and the days of certain manufacturers claiming huge print speeds are past. Using my normal documents, firstly the nonsensical 200 word document printed at 18PPM but the sheer speed was likely the cause paper jams. The more normal 1500 word document spread over four pages was only slightly slower at 16PPM. Both were acceptable with only a tinge of grey to the black printing.
At this time I normally mention printing on thicker photo paper, for some reason this unit will not feed such paper. So I do not offer any times as printing on plain paper will not be an equal 'playing field' for other units.
Scanning can be to file, email or OCR, scanning to a file of an A4 page takes around 40 seconds, the email option a tad less and OCR will take longer as the OCR needs to be opened. All can be done from the unit but you do have to confirm when you have scanned the last page.
Copying of course does not need the PC to be turned on or even connected a monochrome A4 page takes around 15 seconds while a full colour page takes only 20 seconds. Both were quite good and looked close to the original in quality. You can set enlargement or reduction and copy quality I did my tests on the default normal setting.
The Brother software ControlCentre 4 is a one stop screen to do almost everything and is logical in its actions.
Doing my Internet searches found the MFC-J430W at a best price of £90.64 with free delivery.
http://www.amazon.co.uk/gp/product/B005G3WE00?ie=UTF8&tag=gadge0a-21&linkCode=as2&camp=1634