Ravensburger Jigsaws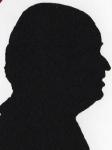 First an assortment of puppies and second a single cat, the latter doing what cats do best sleeping. Both these puzzles are delightful and are from the 1500 piece range, I am certain both will be very popular with puzzle doers.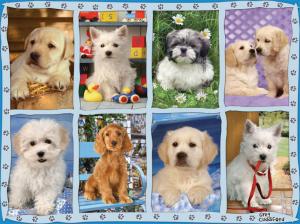 click image to enlarge
Puppies 16 374 8
It is landscape in shape and 80x60cm in size. This image is made up of eight boxes seven of which have a single puppy and the eight has two puppies. In theory this makes it easier to complete as the blue areas around each puppy give you distinct areas to work with. However the drawback is there is a lot of the single blue colour.
The image is by Greg Cuddiford. However it would have been nice to know a little about each of the puppies. None look like cross breeds to me so even a sheet with a couple of lines about the various breeds would be useful.
Only three of the images were taken outside, maybe this is done to make the puzzle easier or is it just for the differential.
Maybe it was me or just doing a jigsaw in nice weather but this was not as much fun as some other recent offerings from Ravensburger.
The puzzle itself was as always well made and the pieces fit perfectly. When I selected the ones to review at a trade show in January it looked delightful, but completing it in May is somewhat different proposition with shorter nights.
Available from the first link below at £13.99 including free delivery.
http://www.amazon.co.uk/gp/product/B002EZZ6SK?ie=UTF8&tag=gadge0a-21&linkCode=as2&camp=1634
http://www.ravensburger.com/united_kingdom/products/new/adult_puzzles/puppies_16374/index.html
Sleeping Kitten 16 338 0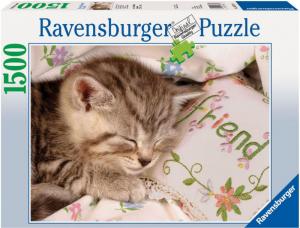 click image to enlarge
Described on the box as Sleeping Kitty but as Sleeping Kitten on both the links at the end of the item. Like the item above it is by Greg Cuddiford. Also like the one above it is Landscape and the same size at 80x60cm.
Like all cats I know their life has a large proportion of sleep and often in places where others may wish that they didn't.
The image here is on someone's bed and posed so that the work friend is clearly visible on the sheets to the kitten's right.
So far from the kitten taking the whole space – where completing the puzzle would have been a nightmare as the kitten is a tabby – at least 50% of the image is made up by the bed clothes and this should make the puzzle more completeable.
In fact only the head, one paw and a small part of the kitten's body appear in the image. Given the longer evenings in the autumn I can see this being a popular image. Especially for someone who likes images of cats.
Available from the first link below at £14.89 including free delivery.
http://www.amazon.co.uk/gp/product/B001BP0QNE?ie=UTF8&tag=gadge0a-21&linkCode=as2&camp=1634
http://www.ravensburger.com/united_kingdom/products/adult_puzzles/1500_piece/sleeping_kitten_16338/index.html