Alba Freeview Box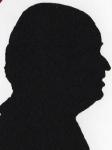 Review controls
While I have seen cheaper unbranded boxes on sale in adverts, this is a new ball park low in a nationally advertised box it breaks the £20 price point and of course it's not a sale price.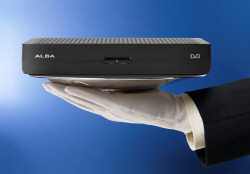 This is a simple black box, it is 21x17x3cm with the aerial lead inserted. There is a single LED on the front and the mains lead is hardwired into the rear. Unusually for basic Freeview units not only does an aerial input but an output as well. Most will connect to a SCART socket and it of course has one of those. However I have an old 14inch portable in my kitchen that does not have a SCART socket so I attempted to connect it to that even though there is an output for the aerial lead as well as an input it turns out to be just a pass through.
On first switch on the autotune works after a couple of key presses on the remote and after a couple of minutes I have 55 TV and Teletext channels and 28 radio ones. One thing you can set -according to the TV set type you have is 4:3 or 16:9. As the unit I used was 4:3 I accepted this and a lot of the stations broadcasting stuff from the 80's and 90's certainly fills the screen better when 4:3 is selected if you have an older shaped TV.
With no controls on the box the remote control is vital. It is 16x5cm and has 34 keys. The old set I used would shortly have become useless like millions of others when the digital switch over comes in and now would have a new lease of life. It was a very basic Philips set that did not even have Teletext but with the wonders of the 'red button' it now has not only remote control functions (yes for those younger readers out there TV's used to come without remote controls) but also digital Teletext.
There are two TV guides the basic 'now and next' whenever you change channels but also if you press the guide button you get more details of the next program. This is also a quicker way to move a longer distance if for instance you are watching say Channel 4 +1 on channel 13 and want BBC News 24, if you knew it was something like channel 70 but did not know it's exact position as channel 80 keying in 70 would give a children's channel. However using the guide shows a good selection of channels so even if you scroll down a few pages to 70 you should see it at 80.
If you select a program with the guide it will flash a message on the screen when it is about to start. Maybe this could go further for those still using a video recorder and change the channel hence you could record it while you were out. As it is you would need to leave it tuned to that channel and just set the video recorder to come on at that time. Still remember this is an entry level product and Alba like others make many PVR's that can record and in a few cases these are dual recorders although it is far more normal to have record one and play one.
While updating a kitchen TV for less than £20 I suspect most would want something more for the main TV such as a PVR device mentioned above or even a brand new Digital TV that of course solves the problem of analogue channels being discontinued.
I was more than happy with the picture quality on the old set and at £20 it is a good way of having a backup. When cooking I often would like the Teletext ability for sports updates without having to go to another room, now with the Alba Quick2View Digital Set Top Box an old TV has a new lease of life. The only TV's it will not help is those without a SCART socket.
There is a setup sheet that probably is enough to get all but a total novice up and running but there is also a 76 page User Guide that is clear and easy to read in fact it has being awarded a Plain English Campaign crystal mark if only some other manufacturers followed Alba's lead.
The Alba Quick2View STB8 should be available from Sainsbury's, Tesco's, Matalan and Littlewoods at £20 or even less. http://www.quick2view.co.uk/