TVonics DTR-Z500HD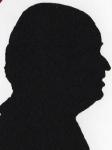 Review controls
This is the latest offering from TVonics, the 500GB machine has what some would describe as a bare interface with the front showing up to three pin hole LED's these appear in different combinations of red and green.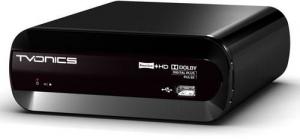 The TVonics DTR-Z500HD measures 18cm long by 22cm deep (with cables inserted) and it's 7cm tall. The unit is black and the corners are rounded off.
It is totally controlled by the remote – so don't lose it – the only connection on the front is a USB socket. Whereas the front is sparse the back is very busy with aerial in and out the latter to output the signal to another TV, Ethernet, SCART, USB, Digital, DC input and finally three HDMI sockets one output to take the signal to your TV and two inputs to allow you to view other devices such as a DVD or Blu-ray player without having to switch HDMI leads a very nice feature that so far I have only seen on one other such device.
The unit comes with a four side A4 Quick Start Guide and for most this well illustrated and clearly numbered production will get you started. For those who need more or who want to delve more deeply there is a 44 page A5 User Guide.
Once you have attached a minimum of the DC lead, aerial input and an output to your TV you are ready to switch on and as stated now you are totally in the hands of the remote control. On first switch on make sure your TV is tuned to the correct mode and you should see a screen offering to do a first scan in my case it found a total of 102 channels of TV, Radio and Text in around three minutes now that is it you are now ready to watch or record.
The front has four pin hole LED's all very close together but never more than three are ever alight at the same time. When on standby you have a single red showing, press the remote to switch on and a green LED lights but as it is so close to the red it may not appear to be alight, so look carefully and around 30 seconds later you should be watching TV or be able to access the 'Library' of stored programs available for you to view.
The 54 key remote control takes a little getting used to, if this is your first such unit you are probably at an advantage as there seems to be not clear pattern among manufacturers as to where certain of the more important buttons are placed. However once you are up and running the finger probably goes near to the correct control automatically rather like someone who is not quite a touch typist. In replay mode trying to fast forward through the adverts will probably be the action that takes the most time to judge correctly quickly.
Picture quality was good, sound was fine but a little lower than that if using output direct to the TV. There are currently four HD channels available to use (assuming you have a HD TV) and here the sound is much lower.
One of the hardest things to get used to was the Programming Guide, not the layout that has the time at the top and up to nine channels and the programs moving from left to right with the channel name on the left however what I missed was the channel number. When trying to program a recording for channel you use infrequently you need to scroll up and down the list to find it.
It supports trailer booking meaning if you are watching TV and you see a trailer for a program you decide you would like to record a single button press can set this for you. Audio Description is now available from a single button press and it works well for those whose eyes are not what they used to be. Picture in Picture is easier to use than on some other such devices.
I myself prefer a little more information on the unit such as a clock showing when on standby, the length of the recorded program you are viewing that has elapsed or the channel you are watching.
Doing my searches found the TVonics DTR-Z500HD at a best price of £224.99.
http://www.tvonics.com/freeview-hd-recorders/dtr-z500hd.html?gclid=CNa-sK-u-KcCFQoY4QodxXhorw