Tefal Kitchen Machine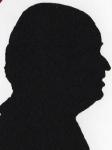 The first such device I remember using was a Sunbeam Mixmaster and that was certainly more than fifty years ago. So how have such machines developed and evolved over that time scale, certainly they have a lot more tools.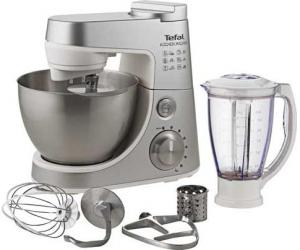 This device offers to do almost all the jobs that you do not do by hand and also those jobs that you can do by hand – such as whipping cream – but take time and are tiring. This machine does all those jobs as well as some you may not have yet thought of.
It is not just a mixer, it's a juicer, a mincer and much more, so far the only things it refuses to do are the washing up and hovering.
My one complaint about this multi function machine is that there are so many interchangeable bits that the six sides of diagrams in the Kitchen Machine instruction booklet are vital even after you have used it for far longer than I have.
So you have the main mixer unit with stainless steel bowl this can have a lid and also has a balloon whisk, kneader and mixer.
Next part is described as a Blender Jug and this has a lid and measuring cup. Moving onto the Mincer attachment this fits into the space that the main units bowl would normally take and this has three different courseness blades.
Next lets deal with the Vegetable Slicer that four different parts dependant on what you want the grated vegetables to look like.
Finally the Juice Extractor that in itself has a pusher, lid, rotary filter, juice collector and finally a pouring spout.
When I think about a multi function unit I tend to think of printer, scanner and copier with or without a fax machine, the point is it is a single unit that does several tasks. Here the one single unit is the motor in the main machine and the various bits above fit in various places and then do a single job and normally one needs to be disconnected before another can be used to do another job.
It does all the jobs described and several more but you would need to use it very often before you know instructively which part goes where and links with what so do keep the instruction booklet very close to hand.
All these sorts of devices come with a receipt booklet and this is no exception however the twenty one shown here with icons to show which part or parts of the unit you need are a little on the mean side a big unit and a small range of receipts.
As a mincer, grater, blender, mixer and extractor it works well but unless you have a large kitchen what do you do with the bits not being used? I found my whole kitchen table being taken by the parts of the whole and unless you are a very neat and tidy person the very part you need to do a specific task will very soon vanish.
I made several of the recipes and was happy with the results and a couple of them I may well make again but by my age you become a creature of habit, certain tasks you use certain tools to create and changing is not always easy.
Doing my searches found the Tefal Kitchen Machine at a best price of £153.34 with free delivery.
http://www.amazon.co.uk/gp/product/B0078KHFD0?ie=UTF8&tag=gadge0a-21&linkCode=as2&camp=1634
http://www.tefal.co.uk/All+Products/Food+Preparation/Food+processors/Products/Kitchen+Machine