Netgear's Duo NAS

Netgear's readyNAS duo V2 is arguably the ideal storage centre for the advanced home user or small business. Documents, images, and video files etc. can be uploaded to the readyNAS and then shared across the LAN or even remotely over the Internet. As it can accommodate 1 or 2 SATA drives each having a capacity of up to 3TB, and has two USB 3.0 and one USB 2.0 ports, it will prove more than adequate for the vast majority of users.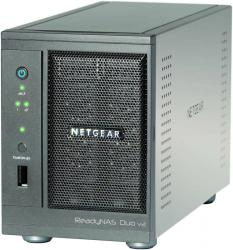 click image to enlarge
It is a solidly built unit which is approximately 140 x 100 x 22mm deep. It has an attractive dark grey finish and weighs just over 2kg even without disc drives. There is a separate power "brick". The large fan, the two USB 3.0 ports and the gigabit Ethernet and power connections are on the rear panel of the unit. On the front as well as the power switch, LEDs and a USB 2.0 port there is a door which provides access to the two disc trays.
It is available as a "diskless" unit, so that the user can install any drive(s) that he already has, or populate with either one or two drives. Having run it with one drive, when a second drive is installed, there is the option to mirror the initial one (RAID1) for data redundancy, so as to provide protection against data loss, or to extend the storage capacity (RAID 0).
While, I presume, virtually any 3.5inch SATA drives will work, on the Netgear Web site there is a "Hardware Compatibility List Hard Drives" where it states that it does not show all the available drives but "only the ones that have shown acceptable reliability in our lab". Here an important issue, as the two drives would be in close proximity to one another, is that they have Rotation Vibration Safeguard (RVS). The fact that these drives generally have a five year warranty, as compared with the 2 years often offered, is an added reason for employing them. Consequently, even if one initially uses a spare SATA drive, if one intends to use two drives, and one cannot be bothered to study the compatibility list, it is probably worth considering, in the first place, a readyNAS that is already populated to ensure that you get ones that should provide maximum reliability.
The setup software, which can be used in either Advanced or Wizard mode, enables the user to deal with all necessary parameters. These include security, shares, file protocols, streaming services, as well as local and remote access with the ability to synchronise files in real time.
Backups can be scheduled from a choice of sources and destinations such as the NAS to an external hard disc attached to one USB 3 port. A printer can also be attached to another USB port.
The basic disk-less version of the Netgear ReadyNAS Duo V2 is available for approximately £100 on Amazon. To this price must be added to cost of one or two hard drives of capacities up to 3TB or, as referred to above, one can buy an already populated unit. As there are, however, too many permutations it is impossible to list them. Irrespective of which route one takes, the ReadyNAS duo V2. can provide an effective cost-effective overall storage solution.