Epson Stylus DX7400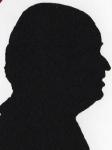 Review controls
This is quite a squat unit, it will never pass the lounge police as it is very dark grey, so if not in an office into a cupboard never to see the light of day.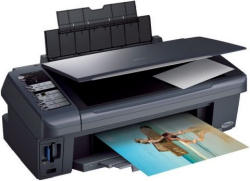 It is 44x34x16cm the latter figure the height increases by 18cm when there is paper in the rear vertical tray waiting for printing.
This is an All In One unit as it prints copies and scans. There is no fax capability so it's not a Multi Function unit. As always the first set of Epson cartridges (four colour four cartridges unit) last very little time as a good proportion go on the initial charge. I was supplied with a spare set that I soon installed and these lasted better but they come in a 14x11x3cm package and considering the actual cartridge is 7x5x1cm at the very least that's excessive packaging.
As a text printer the speed was not good 16PPM for the nonsensical 200 word document in 'draft' mode was only any use for position checking as the output was grey not black. The same document printing in 'normal' was fine but it only printed at 6PPM. The more normal 1500 word document spread over four pages in 'draft' printed at 12PPM but of course was useless as it was grey. Again in normal it was fine but printed only at 5PPM.
As an image printer the output was good - especially using the excellent Epson Photo Print software - the printing time for an A4 borderless image or four near 15x10cm images printed on a single sheet was 250 seconds. Not fast but not slow either, however what matters for me with printing of photo paper is quality and that was fine.
As a copy machine it can work from inside Windows where a lot of choices can be made from a single interface or direct from the machine where you have less choices and these have to be input separately via the limited display choices. However the beauty of basic copying is being able to get a single copy quickly. So the times I will give are when the PC is switched off and copying using only the machine. For a black copy it is 25 seconds and a colour copy 35 seconds. Copy quality was fine.
As a scanner it uses the same flatbed that you use for copying except of course the output is sent to the PC as either an image or to an OCR engine to be turned into text. As with most recent units give it a good clean crisp sheet of paper and the image or text via OCR output will be good.
The controls on the machine are a total of eight buttons three dot LED's and a larger LED that shows a single number for the amount of copies to be produced. These all range down the left edge of the top of the unit with the landscape opening flatbed taking the rest of the top. There are two card slots on the front left edge as well as a Pict Bridge socket. As there is no LCD display printing from the camera cards will require you printing a thumbnail page first so hardly quick or convenient.
The software took around ten minutes to install on a reasonably fast PC and took just over 600MB of hard disc space. A slight change from earlier versions is that Epson Photo Print is now included in the main interface Epson File Manager - rather than having it's own icon - no great problem in fact for the novice user probably easier.
At this point as I type the summery I have no idea of the price and that's the way I like it, in my mind I have an idea of what I think it should be and if it's less then the value will be higher.
Doing my Internet searches found the Epson Stylus DX7400 at a best price of £49 from the first link below. I expected about £65 and lots of people have it for that price and more, the link I give includes shipping.
Doing my Internet searches found the Epson Stylus DX7400 at a best price of $60.01 from the first link below including shipping.
Doing my Internet searches found the Epson Stylus DX7400 at a best price of €72,59 from the first link below including shipping.
A reasonable price for an All In One unit but there are better offerings out there.
http://www.amazon.co.uk/Epson-Stylus-DX7400-individual-cartridges/dp/B000U4SS2I
http://www.amazon.com/Epson-Stylus-CX7400-Color-Printer/dp/B000SDXZX8
http://www.amazon.fr/gp/offer-listing/B000V30H90?condition=new
http://www.epson.co.uk/printers/durabrite_general_printers/Epson-Stylus-DX7400-printer.htm