Philips 23inch 237E4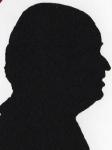 This should be the first of several Philips items to come to be reviewed as they now have a PR Person to oversee things. Certainly I have requested things before but the requests always seemed to disappear into a black hole.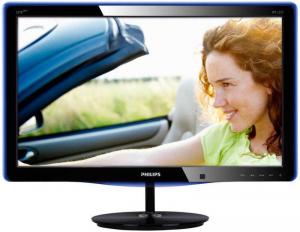 click image to enlarge
The Philips 237E4 E-Line monitor measures 53x32.5x1cm; the last figure is at the edges. The viewable screen is 51x28.5cm giving the notional diagonal imperial measurement of 23inches. Its stand raises the screen by 8cm above your desk or whatever you place it on.
The base is circular at 19cm with a diagonal arm from the very back that attaches about 5cm up the back of the panel.
Unlike some panels the connections are above the bass connection and are all very easy to get at. They are HDMI, HDMI 2 that also allows connection of certain mobile devices for display, VGA and next to that audio input when using VGA and finally power.
There are a line of five touch buttons on the bottom right edge of the display with a pin hole white LED to the right of these that shows when power is on.
However there is an easier and more accurate way of making adjustments once you have installed the CD with driver and User Manual called SmartControl lite. This allows you to make all the changes you need at one time.
There are four icons down the left of the Window it opens Adjust, Colour, Options and Help. Looking at the first Adjust you have three options the first is Brightness with a slider 0-100 with undo and reset under it and then in greyscale a screen representation. The second is Contrast with the same controls and the screen representation this time being white until you press reset and then you see three columns the first on a white background the second on a light grey and the third on a slightly darker grey all have a grey number 1, 2, 3 on that with contrast to high all show as white. The third is resolution and like the two before there are full instructions.
The next is Colour with separate settings for RGB, Black Level, White Point, Calibration and finally Smart Image, advice and instruction are shown on each screen.
The choices on Options are numerous all with lots of choice, they are, Preferences, Audio, Auto Pivot, Input, Wizard, Presets and Smart Desktop, the last allows eight different screens within the screen to show multiple screens.
Having said all the above the auto image was excellent for watching videos and images as well as working on word processing and spreadsheets. The only change I made was to lower the contrast slightly to get a better representation for me.
Colour was clear and crisp as was the brightness so a screen could be looked at for hours without any noticeable eye strain. The default resolution is 1920x1080 which is the maximum for all but a tiny number of larger panels.
It was easy to attach and there is a good back tilt and more forward tilt than with most, no side to side movement is available but I found screens were visible from a near 180 degrees. The whole unit is not heavy so you can lift to move when you need to show at an abnormal angle.
This is a decent panel that would grace anyone's desk, while it is a little more expensive than some the software included means that there should be no eyestrain and as someone with less than perfect sight this is important.
The Philips 237E4 is available from the link below for £142.48 including delivery.
http://www.amazon.co.uk/gp/product/B006BYCUTS?ie=UTF8&tag=gadge0a-21&linkCode=as2&camp=1634