Manhattan SX set top box

Review controls
The Manhattan SX Freesat HD set top box is a very convenient way for those who have a suitable satellite dish to access the wide range of Freesat TV channels.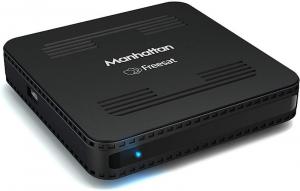 click image to enlarge
As the Freesat transmissions come from a satellite located in the same orbital position as those from Sky, a redundant Sky dish (as long as it is working correctly, has not been used for Sky Q, and is still correctly in situ) will provide access to all the Freesat channels so as to provide, as it says on the SX box, "Subscription Free Satellite TV". (Sky Q uses a different LNB (low noise block) which is the small receiving unit mounted on the arm attached to a satellite dish.)
The SX set top box is black in colour and, being about 12cm square and 2.5cm thick in size, is very unobtrusive when sitting near to one's TV. All the connections are on the rear and there is a status light on the front – red when in standby and blue when active. The connections are clearly marked Dish In, Ethernet, HDMI, AV and Power.
In addition to the remote control and its two AAA batteries the box contains the mains power adapter, HDMI cable, SCART adapter and an AV lead. It is assumed that if there is a satellite dish on the wall outside the house the coaxial cable with its F type screw-on connectors to connect the box to the wall socket will also be available. (A replacement should not be very expensive anyway.)
It was a straightforward task to connect the box: coaxial cable to the Dish In socket and the HDMI cable to a spare port on the TV. That having been done, it was only then a matter of connecting the power adapter to the mains and then stepping through the signal inputs on the TV until one finds "Freesat". (In operation, by the way, power consumption is about 13W and then, when the TV is not in use, the SX automatically goes to its Standby mode where its consumption falls to less than 0.5W.)
Having connected it and switched on I was disconcerted to see a "no signal" message on screen. However, this disappeared shortly when the SX entered its set-up procedure. (By the way, although the box had an Ethernet port, it is more practical to opt for WiFi.)
Setting up was straightforward. After selecting the WiFi network and applying the required key one is asked to accept Freesat's privacy policy and agree to share data with Freesat. Before going any further the SX checks whether the incoming signal is satisfactory and then asks one to input one's postcode. This is the final stage of the setting up with the exception of setting up a PIN.
Although the internet connection is essentially used for software updates (important as the SX was initially launched sometime in 2017) I don't know whether Freesat or Manhattan collects any usage or channel watching data.
In operation, the unit is straightforward and provides access to around 200 Freesat channels with channel numbers starting from 101 (BBC1). If, when selecting a channel which is in normal definition, there is a high definition transmission available, there is a message saying that one can switch to it just by pressing "OK". (When HD ceases, there is a reminder to return to the normal channel.)
The EPG is straightforward and easy to use even though one needs two initial key strokes (Menu + OK) as it does not have a separate key on the remote control. Red and green buttons take the EPG through in steps of 24 hours if one want to look ahead for future programmes within its 7-day range.
There are a range of other facilities such as being able to "protect" particular channels so that they cannot be viewed without previously inputting the box's PIN number, setting reminders and deleting programmes from the list of available channels so that one is only left with a smaller number and so it is easier to select the one(s) you want. (If, having deleted channels, they will be restored when one carries out a re-scan.
Overall, this is a straightforward, simple, Freesat box that does what it says on the box and which has a list price of £49.99 but is available on Amazon for £48.38. Many people could well consider that this is a cost-effective way of making use of a Sky dish which is no longer in use while others may feel that the up-front cost of the SX is a small price to pay in order to get a wide range of free satellite channels without having to pay a monthly fee to Sky.