fireTV Stick from Amazon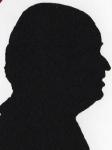 This is very like the Roku Stick, somewhat like Chromecast, but as it is far cheaper than either it would be better, however it also has a lot more features and has another huge plus it is from Amazon so how can it be anything but a big hit.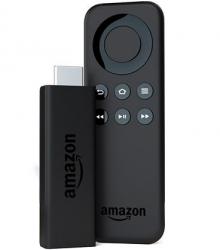 click image to enlarge
Of course Amazon are not a benevolent organization and once you have the fireTV Stick the front screen will offer you the chance to download lots of videos and even some 'Amazon Only' series, a lot of which are free if you take out a Prime Video subscription, they even offer you a free month to check it out.
The stick is 8.5cm long with the last centimetre being the HDMI connection so will not be visible when connected. It is 2.5cm wide and 1cm thick. I found it just about fitted without blocking the next HDMI connection but in fact Amazon recommends you use the provided 12cm long extender lead. The side of the stick has a micro USB connection and the lead provided is 1.5metres long and this needs to be inserted either into a USB port on your TV or as recommended into a power socket via the plug supplied as the latter gives more power. I however found that the USB port on the TV was enough. There is also a small remote control complete with 'AAA' batteries and this six button plus ubiquitous five position joystick control move you through everything on your TV screen. You can also download an App for your phone to give you voice control.
Firstly setup your Wi-Fi connection although it is one character at a time it is reasonably quick. Next you need to register your stick to your Amazon account and then watch a cartoon type animation that is built into the stick and you are done. If you have a Prime Video subscription you can start streaming right away and providing you make sure you select 'Available with Prime' from the options no nasty bills will arrive.
In theory you should be able to start watching a video on SmartPhone, Tablet, Computer or TV in any combination and resume from where you stopped on any other such device. This does not always seem to happen for me anyway but this is possibly because of my initial problems.
Yes I had a problem in that as my first Kindle account was with Amazon.Com and as I still had a small credit I had never transferred it to Amazon.co.uk and Amazon assume if your 'Digital' account is in the USA that you live there once Amazon support sorted that out all was fine.
There is an eight side Fire TV Stick guide easy to follow and it should get you started without problems.
The Home screen has eleven choices down the left side, Search, Home, Prime Video, Movie, TV, Watch List, Video Library, Games, Apps, Photos and Settings.
Certain TV on demand channels are immediately available to download onto the Memory of the stick, BBC iPlayer, Sky News and Demand 5 but currently ITV and Channel 4 are not.
Certain movies are available to rent or buy but are not included in the Prime Video so be careful where you leave the remote if you have children.
I liked the fireTV stick it has a faster processor, more memory and more flash storage than either Chromecast or Roku and it costs less to buy.
The fireTV stick is available from the link below for £35 with free delivery.
http://www.amazon.co.uk/gp/product/B00KAKUN3E?ie=UTF8&tag=gadge0a-21&linkCode=as2&camp=1634