Nanostick HD with PVR

The PCTV T2 290e Nanostick supports both ordinary Freeview and Freeview HD. Connected via a USB2 port it is a convenient way of adding TV and PVR facilities to a PC. Being both small and light it is ideal for those with limited space who would like their PC to double up as a TV and as a PVR.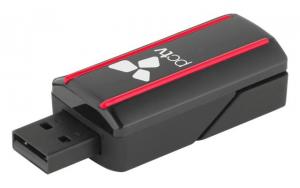 click image to enlarge
The kit, which is designed for light weight and portability, consists of the receiver, remote control, a simple telescopic rod antenna and the installation disc the total weight of which weigh less than 200g.
The receiver itself is a somewhat bulky USB stick 6cm long. It is connected to a USB port on the computer using the provided special 34cm cable which has a metallic braid screening. At the opposite end to the USB connector there is the micro-coaxial antenna connector. The telescopic antenna, which has a large rubber foot which can also be used as a sucker to mount the antenna on a window, has the mating coaxial plug. An adapter is also provided to enable the user to connect to another antenna if available.
As with all TVs, it is important to get the best quality signal that you can. Consequently, during installation of the software and carrying out program search I used the provided adapter to connect the nanostick to a good quality external antenna. The installation was straightforward and I was soon viewing both Freeview and Freeview HD programs on my laptop.
When, however, I switched to the supplied telescopic antenna which I stuck onto a first floor window, I found that I was not able to receive the full range of signals. This is not surprising as the documentation says "In Great Britain, in most cases indoor reception with the rod antenna provided will not be possible. " However, the situation improved somewhat when I used a directional TV indoor antenna.
When using the remote control one must ensure that the receiver's sensor is within sight. However, in practice, as one has access to all the functions, I found that it was very convenient to just use the keyboard rather than the remote.
As a PVR one could start recording on the fly or, alternatively, there is a screen to enable one to set up the details for a future recording. Recordings made are listed in the Gallery which, usefully, shows a snapshot as well as providing program and recording information.
As it works with both Freeview and Freeview HD, it is obvious that it is able to deliver a higher quality image than my 15.4 inch notebook will deliver. In practice, however, the image was more than adequate.
It is an effective means of putting TV and PVR facilities onto a PC without having to "open the box". Available on Amazon at £57.50 it is a useful add-on at a price which will not break the bank.