Archos AV 700 Mobile DVR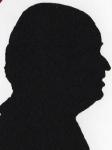 Review controls
If you make long train/tube/bus journeys then this could be for you. You could watch last nights TV on your way to work, not on some tiny screen but this 7inch offering.
Buy Now
Archos AV700 PVR
40G only £209 from Amazon
Archos 100GB model
only £212.30


only £244.99 from DABs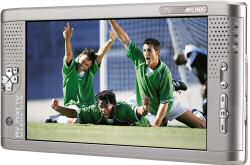 Archos do two models of the AV 700 the one I saw with a 40GB hard drive and a larger one. Some time ago I saw a predecessor of this nice idea but the screen was not big enough for any serious watching and that was back in the time of everything USB 1.1 so transfer was not that fast.
This unit can record directly from TV, DVD, VCR as well as cable and satellite boxes and it does not mind if the signal is PAL or NTSC. You can even hook it up to make scheduled recording. Output can be played on the unit or on a TV so having captured something there is nothing to stop you taking the AV 700 somewhere else and plugging it in to another TV and showing the content to a whole room of people, it can play DivX protected WMV and even MPEG-4.
The secret of this is a rather clunky collection of leads and a POD, read the instructions through carefully and have them by you as you set things up. The POD actually is a pass through but it needs power, it can sit between your DVD/VCR etc and the TV and they all work normally, however the AV 700 can capture and record the output and this is saved on the unit. Once the POD is setup learning the controls on the unit does not take long and while you are still likely to need the manual for the first few uses it gets easier.
The above is the main use of the AV 700 and it does this well, the quality is good even when played back on a standard TV, however most will use it to fill in those long boring journeys.
Another use is to capture and or play music and this can easily be transferred using a mini USB to USB lead from any modern Windows PC when the unit is set in HD mode it allows drag and drop and I transferred a number of MP3 files from a Windows ME computer to the unit, however the cable was not supplied in the unit I tested (I am told it should have been). Photos can be transferred in the same way.
My main problem was with the AudioCorder, this has a whole range of controls and settings but even though the manual said 'recordings can be made from an Analogue source' I could not. I was not surprised a microphone did not work as I suspect a pre amp would be required. However despite me trying a range of devices that should work I had no joy. So I contacted Archos and eventually a technical guy said it could be done via the POD - I said this was not on as it would require a mains connection - and he then said that an AV Travel Cable Kit would do it. I was sent one and it worked fine providing input came from something like a line out. It consists of an AV cable (used to take content out) and a small plastic gizmo that is AV in from one socket and AV in from the other. My wish was to get audio into the unit and this is did fine, however when you are spending this amount of money I think it should have been included and not a £14.99 extra. Perhaps the mechanics of this deserve a mention as it can record in better than CD quality WAV right down to a low level MP3 standard you choose all from an easy to use menu.
This unit has drawn a lot of admiring glances from friends and neighbours but with such an array of cables it will require some knowledge to get it setup and I suspect that ladies might think that the array of cables do not belong in their lounge.
The main advantage for some of my friends is being able to transfer audio via USB almost instantly rather than in real time from things like mini disc players. For most being able to watch last nights soaps on the way to work will be the most likely use.
Doing my Internet searches found it at £206.99 from the link below. The larger capacity 100GB is now also available via Amazon for only £212.30 and so is the better value.

40G byte model (£209.99) http://www.amazon.co.uk/Archos-AV700TV-Mobile-Digital-Recorder/dp/B000FNNYS2
100G byte model (£212.30) http://www.amazon.co.uk/Archos-AV700TV-Mobile-Digital-Recorder/dp/B0009OD1OE
http://www.archos.com/products/tv_centric/av_700/index.html?country=gb?=en