Canon Legria HF21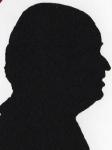 Review controls
This is a small camcorder that has a 64GB of supplied internal memory and 3.3MP stills. 15x optical zoom may not sound huge – by some standards – but try keeping the camcorder still when you have far greater amounts of zoom.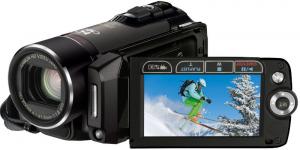 click image to enlarge
It weights around 330grams, light enough to sit on your fingers for some time without you needing to spend hours in the gym. It is 11.5x6.5x5cm when the TFT is closed add another 8cm to the 6cm width when it is open.
The 270 degree of movement now seems to be standard on most camcorders and it can be very useful when taking images in a crowded area. It is easy to take images even when the unit is above your head as the TFT can still picture what you cannot see directly. Using the supplied finger/palm grip enables you to still control zoom etc.
I am not a great linguist so having the manual in French, German and Italian meant I had to proceed with care. The Quick Guide was in English and this did help somewhat. Viewing images and videos on the unit is easy once you have found the correct control under the TFT. Viewing images on a TV via an HDMI cable is also easy and quality of sound and video is excellent.
It is possible to transfer files from the Camcorder to a PC but I found this far from easy, perhaps if I had the manual I would not have caused the PC to reboot. After this I was careful not to have anything else running when I connected the unit. Messages along the lines of do not turn off the Camcorder or remove the lead from the PC until you have disconnected the unit left me somewhat puzzled. It seems you can only transfer data when you have power connected to the camcorder.
Everything is easy when you have data on an SD card as you just remove the card and place it in card reader, why can't internal memory allow transfer as easily. This rather negates the point of having internal memory if data transfer is not simple.
The difference between this and some other Camcorders is that still images are of a better quality an average image that I took was around 500MB. The video images were large and in fact so large that replaying them on some PC's was not possible even when played through a third party application (I will explain why in a moment) you get any sound but the video freezes almost at the start and never restarts. I tried this on an XP and a Vista system. Strangely it ran fine on a Windows 7 system, but that was in Windows Media Player that recognises the file format.
The reason why I needed a third party player is that natively the .mts format is not recognised by XP or Vista. Canon provides some software on a couple of CD's but when I inserted the second CD it asked for the cameras serial number – before continuing – and it said my serial number was incorrect. So I do not know if Canons software would have helped.
I found that a minute's video took close to 200MB of hard disc space, yes this is HD video but that seems excessive to me.
I was happy with both the video and still images; transfer from the internal memory to a PC was far from easy. Viewing on a TV was easy via a mini to full size HDMI cable. I cannot comment on the quality of the manual but the Quick Start Guide was okay.
Never a pleasant experience when your PC reboots unexpectedly and I still do not know what I did wrong but I do know it only happens when the Canon unit is connected of course the English manual might have explained.
Doing my Internet searches found the Canon Legria HF21 at a best price of £824.99 from the first link below.
http://www.amazon.co.uk/gp/product/B002LZUBF6?ie=UTF8&tag=gadge0a-21&linkCode=as2&camp=1634
www.canon.co.uk/For_Home/Product_Finder/Camcorders/High_Definition_HD/LEGRIA_HF21/index.asp