Kensington's versatile notebook dock

The Kensington notebook expansion dock with video model K33367EUB is easy to use and brings a number of the advantages of a desktop machine to the notebook user. It provides the user, when at home or in the office, with a quick and simple means of connecting their notebook to an external monitor as well as full-size keyboard, mouse, the network and other peripherals.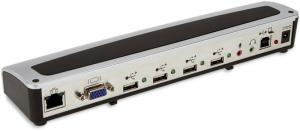 Although one of the advantages of a notebook is its portability there are downsides and, as far as I'm concerned, it is a tool but not one of choice when I have an alternative. I prefer a full size keyboard, a proper mouse and, ideally, two screens. Obviously, I cannot have these while on the move. However, while one can plug in a proper mouse (or even a Kensington trackball) and keyboard when at home or in the office, adding the second screen – which could even be a 19 inch one -- to provide an extended display is not so simple. This is one specific area where the dock comes into its own.
It is a small unit roughly 25 x 7 x 3.5cm in size which has 10/100 Ethernet port, VGA, 4 USB 2.0 ports as well as headphone and microphone sockets together with the USB upstream connector and the connector for the supplied power brick. It has a wedge-shaped profile so that, when under the rear of the notebook it improves ventilation.
Keyboard, mouse and monitor etc. can be left permanently connected to the dock even when it is not in use. Then, all that it is then necessary to do is to connect the dock/notebook USB connection and bring up the power for everything. (This is most conveniently done by using a switched multi-socket surge protector.)
When the notebook has booted up, it is just a simple task to click on the "Kensington" icon in its taskbar to activate the dock and everything which is attached to it. Set-up is also accessed from this icon on the task bar. The most important setting being dual view (where the external screen is an extension of the notebook screen), clone (the two screens showing the same image) and disable when the external screen is turned off. Screen resolution (up to 1400 x 1050), 16 or 32-bit colour depth, and screen rotation are among the other setting. This icon also gives access to the advanced settings which, if the notebook has a VGA connector for a second screen, enables one to have a third screen. While there will, no doubt, be some people who will find this useful I don't think that it will be of much practical use for the majority of us.
As the dock makes if easier and quicker to get everything connected up and working it is a useful tool for anyone who has to regularly use a notebook in the home or office. The price of around £80 from Amazon seems a reasonable outlay to cut down on the time-consuming chore of connecting up and getting started and so enable one to get on with the job – whatever it might be – with the minimum delay.