Space Station and a Mini Desktop USB Light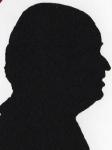 Here I am looking at two useful accessories from different manufactures that work well together. First an item to clear up the clutter of wires for everything that connects to a notebook. The second provides that light just where you need it courtesy of a USB port.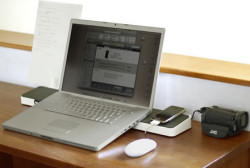 Space Station
This is a laptop dock, USB hub, cable management system and a desk organiser. It is black, 65cm long, 11cm wide and 4cm tall at the rear and 3cm tall at the front.
The top is covered with rubber while the sides and back are plastic. Turn it upside down to reveal a four port USB hub (power supply is supplied should it be required) and there are sixteen clips in two shapes and sizes to secure cords. This means that you can just unplug your laptop and go. Next time you use it at your desk every cable will be just the right length to plug straight in.
The one cm rake allows you to get just enough tilt on the keyboard, it also aids cooling as it gives an airflow under the notebook. There is a slot in the rear of the unit allowing a page holder to be inserted and thus any document you are copying is held up for easy reading. The slot runs the length of the rack so other items like notes and cards can be stored safely and close to hand.
I have used this for around six weeks and my desk has never been so tidy. My notebook has only two USB ports so the extra ports are useful. It does not have a built in CD\DVD so an external unit would take one of the ports but plugging it in to the hub means I still have one port free for USB sticks etc. Same with my AIO unit into the hub all the cables disappear under the Space station and both the CD\DVD and AIO are available as soon as the one lead from the hub is connected. I enjoy the extra rake as I originally learnt to type on a manual typewriter that had a good rake so I always enjoy the extra pitch. This is a simple device that does a simple job well. Pick up the notebook and go away. Plug in the power and the USB hub and you have a full featured PC again. The price from the site below $79.95 remember to specify the plug type US/UK/Europe for the power adapter for the USB hub at order time. Colours available are black or white.
http://www.bluelounge.com/spacestation.php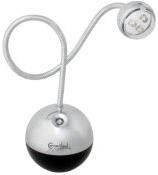 Mini Desktop USB Light
This is a very simple device and indeed I have seen other such objects even smaller light a pen light but they are floppy this is a far more solid arrangement but the arm can be twisted into almost any shape.
When I review two items together often the relationship between them is rather tenuous but here the light is almost made to be with the Space Station above. In fact during the test period they have sat side by side and the power for this light has come from the Space Station Hub.
The base is a weighted 5cm ball chrome top and black bottom. There is a slight indentation so the base sits solidly and on the top another slight indentation that conceals the on/off push.
If stretched fully upright there is 30cm of wired lead to the three LED's in the small ball top however the lead can be twisted into almost any position and it stays exactly where it is put.
This is great when you need to shine a light on a specific point and it will stay there rock solid until you move it. I have also used it via an extension USB cable to get into many a dark corner that otherwise would need someone else to hold a torch.
Sold by Brando from the link below and any order from them attracts a flat $3 US post and packing charge no matter how large the order. The light itself is $17 US so with P&P that's just over £10 at the current exchange rate with the US dollar.